In this Sqribble review, I will explain how I have used Sqribble to create ebooks, what I liked about the process, and in which aspects the cloud software could be better. Sqribble is an easy-to-use cloud software that allows you to quickly generate professional looking eBooks from your content. The software is cloud-based so that you do not have to install and update any software on your computer. In addition, you will also always have the latest version of Sqribble that you are using including all bug fixes. You only have to log in upload your content, select a professionally designed template and let the software generate your PDF eBook.
Sqribble has a lot of features that allow us creators to create ebooks even fast and even more professionally looking with a few clicks of the mouse without the need for a professional expensive software or the need to hire a professional designer.
Note: This article contains affiliate links. When you click an affiliate link and make a purchase, we get a small compensation at no cost to you. See our Privacy Policy and Disclaimer for more info.
PDF ebooks are the ideal tool for your website to create leads, to provide more value to your readers or email subscribers by sending them an ebook of your latest research. With Sqribble you can also create professional eBooks that you sell directly to your visitors and users. You also have the option to create a professional looking ebook from your online training, so that your participants have the option to read it after the training is over.
Ultimate Sqribble Review – The beginning
As Sqribble is a cloud software, you do not have to download or install any software on your computer. After purchase simply log into the tool and you are greeted with a lot of eBook templates you can choose from. These templates provide you with a professional looking design and layout for your own ebooks. Even the standard plan of Sqribble allows you to create unlimited ebooks.
Directly from the overview, you get a quick look into the template to see the most important pages and if these pages match your content and your design for the ebook. When you have found the template you want to use, you simply press use.
In the next step, you can customize the design of your chosen template and change the colors. However, the design already looks like a professionally designed ebook, so you are directly ready to add your own content to the template.
Adding your own content to the template is easy with Sqribble, the ebook creator software, and there are different ways to do so:
You can enter a URL and Sqribble will download the content from the URL and add it to the template.
Another option is to start from scratch and start writing the content directly within Sqribble into the template.
If you already have a ready-to-go text in Word, you can also upload a whole Word file and it is added to your template. The Word file can be multiple pages long and Sqribble will also take headlines and other formatted elements.
If you have written your text in another editor or simply in notepad you can also add content by copying and pasting it into the template.
When you want to start an ebook but you do not want to start from a white sheet of paper, there is also a collection of articles available you can choose from.
When your content is within the ebook you can edit the content in the ebook by resizing the text, moving content around, adding images, highlighting certain aspects of the text, or even creating highlight boxes, adding calls to action, and other options that allow you to customize your content and to make it even more polished.
In the last step, you can create automatically a Table of Content based on the different headlines you have defined throughout your book.
Of course, you can save your work at any time during the whole process so that you can take a break from creating your ebook with Sqribble and continue the next day.
When you are satisfied with your work, you can press the GENERATE eBOOK button and your book is processed. You can then preview your own created book in the browser or download it as a PDF.
This highly polished eBook is the ideal tool for every internet marketer, affiliate marketer, or information publisher. You can use the created PDF as a lead magnet to increase your e-mail list subscriber. The book could also be given away as a bonus to another offer, or you could sell the created eBook as a product.
In addition, you could also sell the creation of highly polished ebooks as a service. Continue reading my Sqribble reviews and get more information on how the software works and what my impression is.
You can also use this created ebook to make money from affiliate marketing without a website by using it as a lead magnet in your social media profile or YouTube channel.
Sqribble Review – How does Sqribble work
Sqribble is a cloud software so that it directly works in your browser and you always have the latest version available. Creating a professional looking ebook is a simple four-step process:
STEP 1: Select a template from the collection that matches your industry and offers you a matching design
STEP 2: You add the content to the ebook by either uploading a document, copying the content, getting it from a URL, or entering it directly into the template
STEP 3: You fine-tune your design by adding images, resizing text, defining headlines, and adding other layout elements. When you have everything together you let Sqribble create the table of contents
STEP 4: Press the GENERATE eBook button and download your created ebook as a PDF.
What are the key features of ebook creator Sqribble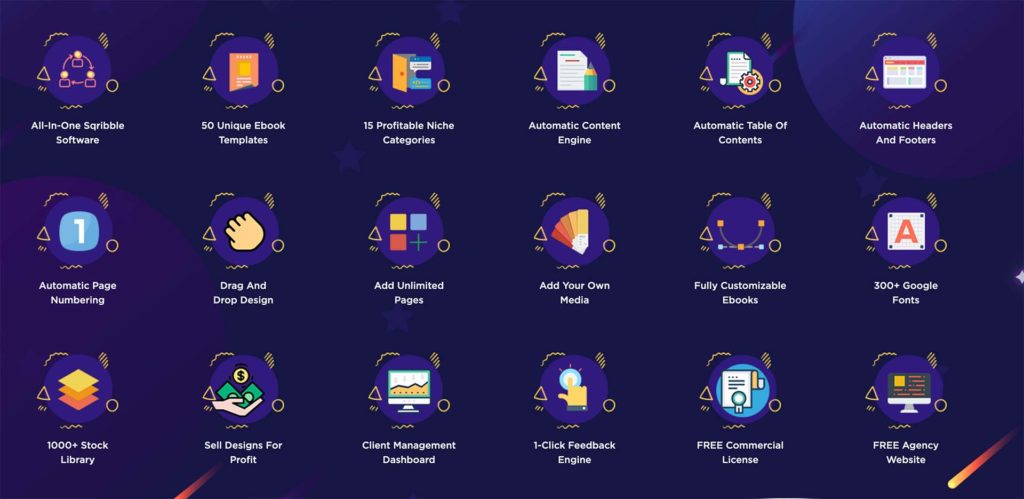 Selection of over 50 unique eBook templates
eBook templates from 15 different niches
professional templates for creating ebooks
Automatic content engine
Automatic Table of contents
Features from professional word processing software like automatic page numbering, headers, and footers are supported
Drag and Drop design for elements that highlight your unique design
Your ebooks are fully customizable
Commercial license, so that you can sell your created ebooks without additional fees
Who should consider buying ebook software Sqribble
Sqribble is the ideal ebook creation solution for the following group of people:
Digital Marketers that want to have an easy-to-use and quick solution to create ebooks or reports for their business that can be used as lead magnets or sold as products
Users that want to create professional ebooks that do not need a lot of design options or who are easily overwhelmed with a lot of options
Entrepreneurs that do not want to learn professional ebook creation software with a huge list of options for which one would need weeks to learn
People who just start a new business or side hustle and that cannot afford to buy expensive tools to create some professional looking ebooks.
From my point of view, Sqribble is the ideal solution when you are starting and want to create professional and good-looking ebooks you want to use for your lead magnets or reports. It does not matter if you are a digital marketer, information publisher, entrepreneur, or affiliate marketer, Sqribble review is the tool to get you started while you can concentrate on your business.
Who is the creator of Sqribble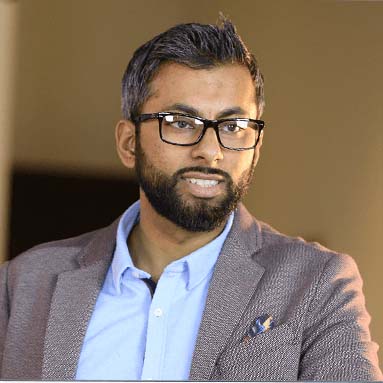 The developer of the Sqribble ebook software is Adeel Chowdhry, he is a well-known internet entrepreneur with over 10 years of experience. In the past, he has created already a lot of digital software that has sold tens of thousands of units.
And as Sqribble is already on the market for some type, it has been sold already a lot. Adeel Chowdhry is known for the high-quality solutions he has already created and from my point of view Sqribble is no exception.
What I like about Sqribble
Professionally designed eBook formats
There are a lot of pre-designed eBook templates within Squribble which are professionally designed and provide you with a terrific starting block. The designs are based on different topics and you can still customize the color and look to be unique but still professional.
Client management
Within the backend of Sqribble, you have the option to create client areas and save the contact information and other notes about your clients. In addition, you can share your created ebook with a client and they can provide direct comments on the layout. This allows you to easily implement the required changes into the ebook.
Saving reminders
Unfortunately, Sqribble does not autosave your changes, however, it provides reminders that you should save your work.
A lot of available fonts through Google fonts
From within Sqribble you are able to access Google fonts and choose from the huge library of Google fonts the font you like for your ebook that matches your brand or your selected style of the ebook.
Simple customization option
The customization options are easy to understand and master and quickly to implement. Thus you do not have to understand a complex and sophisticated ebook publishing app but rather a very focused and easy to use but efficient ebook app that allows you to quickly customize a template to fit your own brand.
What I do not like about Sqribble ebook generator
No automatic saving
From a lot of cloud software products you are used to the autosave function of the software product
The upgrades are presented everywhere
Although you can create professional ebooks easily with the standard purchase, when you are on your dashboard you are confronted with a lot of upsells to your purchase. in addition on the dashboard there are also a lot of videos that promote the upsells of Sqribble.
The undo function is missing
Unfortunately, there is no way to undo some of the design changes and text changes you are doing within Sqribble.
Limited design options
Although you have a selection of templates to choose from, you are limited what and how you can change the design of a preselected template.
No option to upload your own color palettes
You can create clolor palettes within Sqribble, but you cannot upload a palette that you have already created in Photoshop or any other programme.
How much does Sqribble costs and what are the Upsells
Front-End: Sqribble (one-time 67 USD)
The base price for the license of Sqribble is usually 67 USD but there are a lot of offers on their website that reduce the prize by 20%. The creator of Sqribble also adds some sqribble bonuses when you buy it.
OTO 1: Sqribble professional ( 97 USD)
Unlock 150 more professional eBook templates (the best ones are in the professional version), graphics and even more ready—made content for all kinds of niches. (Just so you know, single templates from stock websites would cost you up to $450… for just ONE template!) Great for those that want more variety, content and heavy users.
OTO 1: Sqribble Prime Monthly (47 USD per month)
This membership offers you additional templates each month for your ebook that are limited to prime members only. Currently you get 15 new templates each month.
OTO 2: Sqribble Fantasia 3D (77 USD)
With this OTO you are able to create interactive flipbooks with Sqribble ebook software and also use a new 3D eCovers for your ebooks.
OTO 3: Auto Job Finder Software (197 USD)
This auto job finder software is a very usefull upsell, if you want to create eBooks and sell them to customers. The software will look on various freelance websites and will notify you when it finds a job that you can fulfill. This can increase your revenue and save you time searching for jobs.
Frequently Asked Questions for Sqribble review
Does Sqribble work on a PC or Mac
Sqribble works on a PC or a Mac or a Linux computer. It actually works on all devices that have a webbrowser and are connected to the internet.
Is it easy to use and does Sqribble offer trainings
As mentioned in the review, it was designed to be used by normal users. In addition the creator of Sqribble has tutorial videos included in the software thus making it easy creating ebooks.
Can I upload my own images?
Yes you can upload of course your own images and include them in your eBooks. Sqribble also offers a lot of stock images, icons and backgrounds in the plattform to customize your ebooks.
How does Sqribble work?
Sqribble is a cloud-based software that works in any modern browser to create ebooks in an easy-to-use way. The finished ebooks can be used as a report, whitepaper, lead magnet or book. The software provides the user with professional-looking templates so that the finished ebook does not look boring or ugly. The content is created in a drag-n-drop interface so that everybody can create an ebook in minutes.
Who owns Sqribble?
Sqribble is developed and maintained by Adeel Chowdhry. A digital marketer who has been developing digital software for marketers in the last couple of years. Sqribble the powerful ebook creation software is one of his most successful projects.
Is Sqribble user-friendly?
Yes, the user interface is very intuitive and with the support of the professional-looking templates, everybody gets a head-start when creating a new ebook. In the next step, an easy-to-use and familiar-looking drag-n-drop editor is presented to the user to enter text and place graphics and images.
Is Sqribble worth buying?
The Sqribble ebook software is an easy-to-use ebook creator software that you can buy for an inexpensive one-off payment. I have used the software in the past to create lead magnets and still have a login. I also use other software like Designrr which has a similar feature set.
Is Sqribble legit?
Sqribble is a legit software that allows you to easily create ebooks that you can download as an PDF.
What is Sqribble eBook
Sqribble is a cloud eBook creation software. With Sqribble you can create professional looking eBooks. The software provides pre-designed templates, so that you can create an ebook with just a few clicks and saves you a significant quantity of time as well as cost.
Conclusion of this Sqribble review
The conclusion of my Sqribble review is that Sqribble is a powerful ebook creation tool and the ideal ebook creation software if you are a start creating e-books for your business or your hobby. It comes with nice templates that allow you to easily create professional-looking e-books without any previous knowledge. As the software is cloud based you do not have to install and update any software but you can directly start creating your ebooks.
I also think that the initial starting price to get you started is pretty low. It allows you to start creating your first e-book without a huge investment in a more advanced e-book software. In addition with Sqribble, you are directly able to create professional-looking ebooks without the need to be a designer or design training because of the collection of ready-made templates. If you are unsure if Sqribble is the right ebook creation tool, check out my overview of the best ebook creation software.