Currently, I am researching a bunch of tools to write ebooks. In this best ebook creator software review, I will provide a quick overview of the tools I looked at. For certain packages, I will link to my more detailed review and findings.
I started the research for an ebook designer software as I wanted to publish some ebooks and reports for my business so that I can provide lead magnets and added value to my clients and visitors. To create this material I want an easy-to-use ebook creator tool that allows me to create a professional-looking ebook or report without the need to learn very complex software or spend a lot of money. In addition the software should be able to create different ebook formats.
Note: This article contains affiliate links. When you click an affiliate link and make a purchase, we get a small compensation at no cost to you. See our Privacy Policy and Disclaimer for more info.
The ebook should be professional looking a professional look communicates a higher value of the ebook to the reader.
There is a long list of software that allows you to export the content as a PDF, but each software has its strengths and weaknesses especially if you want to use the software-specific use cases. This is the reason I wanted to create this list of the best ebook maker software so that not everybody has to go through the testing and frustrations.
Of course, there is also a selection of ebook builder software for free, but I haven't looked into them yet. I will update the post with some free solutions later.
What are the best eBook Creator Tools?
In the following part of the ebookmaker review, we will go into detail into the list of best ebook designing software, with the pros and cons of each software, most important features, learning curve, ease of use, and price.
Designrr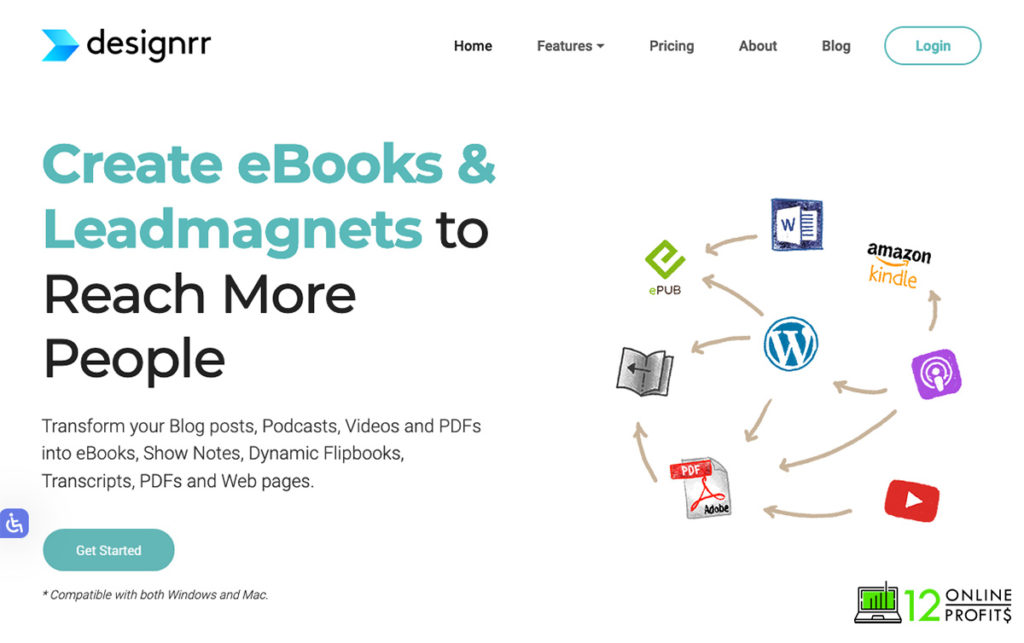 Designrr is a cloud-based ebook creator that allows you to easily design ebooks directly in your browser without the need to install or update software. The software was launched in 2016 and over 100,000 customers are using the software.
An advantage of Designrr is that you do not have to start from scratch when creating an ebook but you can import already created content into the editor as your basis for the ebook. In addition you do not have to create your own design but use one an ebook template. Depending on the version there are different options.
Currently, I am using the basic version and I can import content from:
a URL or existing blog post – thus you have created a lead magnet in just minutes from your blog post.
a Microsoft Word or Google document, a lot of PLR content comes preformatted in an MS Word document and with Designrr it is a simple process to create a PDF from a Word document. This allows you to make edits and increase the value of the PLR with additional content. When importing important formats and headings are kept.
import posts from your Facebook profile or Facebook page
start from scratch
When you have upgraded to one of the higher tiers, there are even more import options:
you can import content from a podcast, that converts your podcast in easy steps into an eBook
YouTube videos are also transcribed and converted into an eBook. During the transcription, process screenshots are taken and can be integrated into the ebook.
Designrr Pro can also import existing PDFs and allows you to edit the content of the PDF in the Designrr editor.
This process allows you to quickly create a lead magnet to grow your email marketing list< or to provide added value to your existing customers by repurposing content you have already written. During the import process, Designrr keeps the defined headings from MS Word and creates a Table of Content automatically.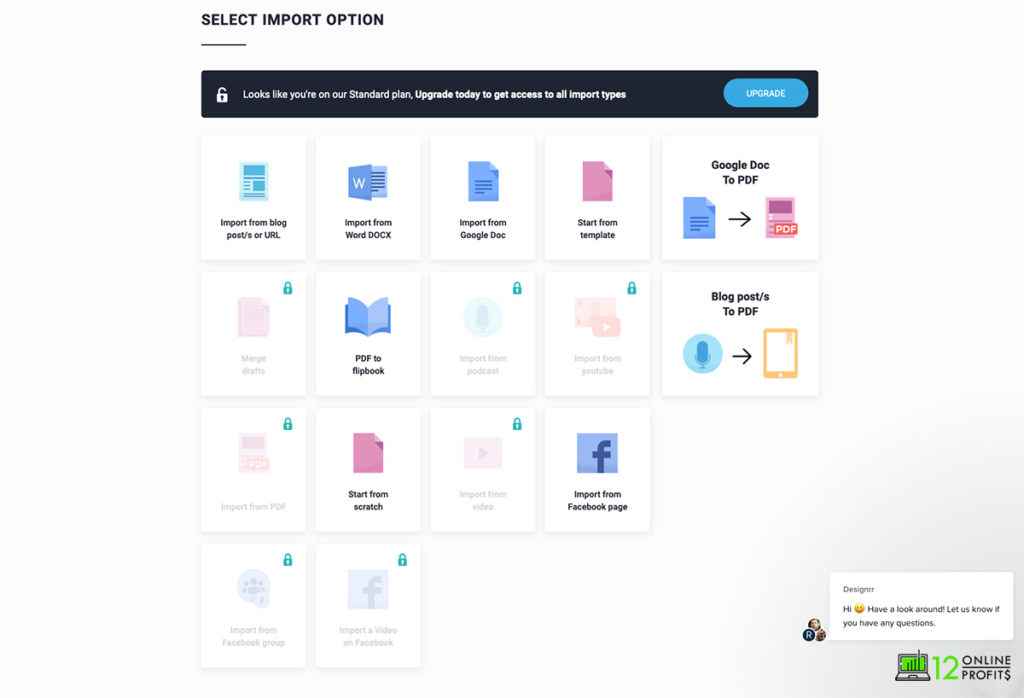 Key Features included in the ebook creation software Designrr:
100 ebook templates with professional layouts
select your font from 922 Google fonts for your ebook
create an unlimited number of ebooks
integrate an unlimited number of copyright-free images into your ebook
import content from internet pages, Word, Google, or Facebook
easy integration of page numbering and Table of Content
powerful editor to create your content or edit the important content
publish your ebook to all important formats
a library for ebook management
all content is saved securely in the cloud via SSL encryption
tutorials on how to use the software and how to write ebooks
the finished PDF can be opened in all ebook readers
Designrr Pricing: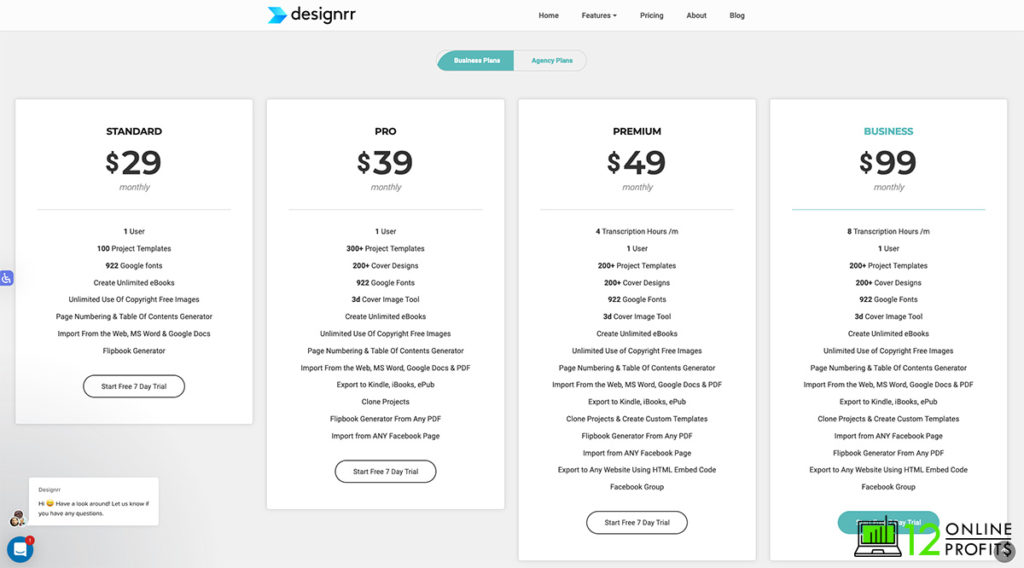 Designrr has a four-tier pricing structure. Each plan offers more advanced features to the user and each plan comes with a free 7-day trial period. When you are satisfied with the functionality of the product you can easily upgrade to the "normal" paid plan.
If you are unsure what to expect of Designrr go and check out my full Designrr review which goes through the features, functionality, and pros and cons in more detail.
Currently, there is still a special offer available for Designrr through my link that is the Designrr Starter Plan. This special offer is a one-time fee of 27 USD compared to the regular price of 29 USD per month, thus it saves you a lot of money. All this points make Designrr currently the ultimate ebook creator tool and offering.
Sqribble
Sqribble is also a cloud-based ebook publishing software that you can directly use and do not have to install or update anything. The software offers similar features to Designrr.
You can also easily create an ebook from existing templates. you can start your ebook from scratch or you can import the content from existing projects.
The content can be a Word document, a blog URL, or simply copy and paste the text into the project. In addition, you can create your ebook from a selection of articles – however, you should edit the content as it is generic private label rights articles.
The standard edition of Sqribble includes the following features:
50 professional designed templates
import content from Word, URL, or copy and paste
Automatic Table of Content, headers, and footers, and page numbering
300+ Google fonts to choose from
1000+ stock photos to include in your ebooks
build ebooks with unlimited pages
create an unlimited number of ebooks
powerful editor to edit your content and fine-tune the layout and design of the content
free commercial license
Sqribble pricing:
Sqribble does not have different plans but rather an upsell funnel. You buy the standard version for 67 USD at the moment and then you can upgrade to the professional version for an additional 97 USD. These two versions are one-time fee products. The next upgrade is Sqribble prime, which is a monthly payment of 47 USD and offers you additional premium templates each month.
In addition, there are a couple of upsells in the backend right in your face to other products from the creator and also different ebook bundles.
Canva
Most of you will probably know Canva as a tool to create graphics for Instagram or YouTube thumbnails. Canva is an easy-to-use tool that is even free in the entry tier. This makes Canva a free ebook creator.
The tool is also cloud software so that you do not have to install any software and can start directly in your browser. When you log into the software you are greeted with a huge list of different assets that you can create and one of the assets is an A4 Document.
After you have selected the type of assets you are greeted by the editor and have the option to select a template and start creating your documents.
However, as Canva is primarily a tool to create graphics the features and functions to create an ebook are very limited. You can directly see it when you start creating your document. Although you can select a template, there is no option to import text documents from an URL or Word / Google document.
Features of Canva as an ebook creation software:
huge selection of templates for A4 documents, however, some templates are not suitable for an ebook
powerful editor to enter text and edit the layout of your ebook
you can select from a long list of fonts, however, for some fonts you need to upgrade to PRO
option to add images from a huge collection of stock photos – however, the best photos are only available under the PRO tier.
create an unlimited amount of ebooks
they can have an unlimited number of pages
When going through the list, you will have noticed that there are some important features for an ebook creation tool that are missing:
as mentioned there is no option to directly import existing documents or content
there is also no way to add an automatic Table of Content
an automatic page numbering is also missing
Pricing of Canva:
You can use Canva without any costs and create free ebooks. When you upgrade to the PRO tier for 11.99 USD you get more templates and stock photos, graphics, audio, and video to choose from.
The functionality of the image editor within Canva is enhanced with a background removal tool and you can resize your designs infinitely.
In addition, you can use Canva with up to 5 people.
This actually makes Canva an interesting alternative to Scribble ebook creatot except you want to create longer ebooks with an automatic table of contents.
Flipsnack:
Flipsnack is an online tool that lets you create interactive ebooks that you can read within the browser and that offer a page-turning experience. I would not use such a tool to create a lead magnet however when you want to keep the ebook online flipbooks are a nice feature. You can also download the created flipbook as a PDF if you upgrade your plan from a free plan to one of the premium tiers.
However, the software seems more to be targeted at users that want to turn their existing PDFs into flipbooks. Although the tool is targeted at users that want to create an ebook, it does not have any function to import Word or Google documents. There is also no way to import content from a web page.
Features of Flipsnack as a creation tool for ebooks:
over 400 templates for ebooks, however, some templates are not suitable for an ebook
powerful editor to enter text and edit the layout of your ebook, you can also group your elements and position them on different layers
you can select from a long list of fonts, you can also upload your font.
option to add images from a huge collection of stock photos from Pexels and Pixabay
depending on the premium tier you have selected, you can have from 10 (starter) to 1,000 (enterprise) ebooks on the platform
also, the number of pages within each document is limited from 100 pages and 100 MB (starter) to 1,000 pages and 500 MB (enterprise)
however, when you want to export the document to a PDF you have to have a premium tier.
There are also some important features for an ebook missing, similar to Canva:
there is no Table of Content function, this means you have to create and update it manually
pages are also not automatically numbered
there is no import function for Word or Google documents – however, you can import PDF documents
if you want to export and download your document as a PDF you need to have a premium tier
What does Flipsnack cost:
As a lot of functionality of Flipsnack depends on the premium tier you have selected the pricing is pretty important for anyone interested in creating ebooks with Flipsnack.
Vistacreate:
Vistacreate is the next ebook maker in our tool overview. The tool has a very similar look-and-feel as Canva, from the structure of the website to the different template categories you can choose from.
When you have selected a type of content you want to create you enter the editor of Vistacreate which again looks very similar to Canva
— INSET IMAGE —
Features of Vistacreate:
big collection of professionally designed templates that you can then customize
library of stock photos to include in your designs including the option to upload your images
store your work in progress and finished design in the cloud
collection of icons and illustrations to choose from
a long list of fonts to choose from
download your finished ebook PDF, JPG or PNG
Similar to Canva Vistacreate is also missing some important features if you want to create a longer ebook with the tool:
you cannot import a Word document
there is no function to create an automatic Table of Content
Page numbers are also not automatically added and updated
Pricing of Vistacreate:
The basic version of Vistacreate is free. You can upgrade to a PRO plan für 13.00 USD per month and get additional features. The PRO provides you with almost unlimited creative assets to start with and the support of unlimited storage for your project and unlimited brand kits.
Microsoft Word / Pages / Google Docs:
Our normal word processing software that we normally use to write documents, letters like Microsoft Word, Google, or Pages also allow you to publish ebooks, although most people do not know this feature. The function is hidden in the SAVE dialog of the software making them ideal creation tools for ebooks.
With Google, you can download your finished document as PDF or even as an ePub.
This makes the processor software packages the best free ebook creator software you can use. Google and Pages are free and Word is included in a the different Microsoft Office tiers.
Pages are the new tool from Apple to design ebooks as they discontinued iBooks author (freeware).
Features of Word, Pages, and Docs:
some templates are available with the standard software, more templates are downloadable for free on the internet
images can be included from free image galleries like Pixabay, Pexels or Unsplash
fonts are included in the software or you can install a lot for free fonts from Google
as these tools are professional writing software they offer extensive grammar and spelling checking support
you can create unlimited ebooks with an unlimited number of pages
storage in the cloud is included
automatic page numbering even with advanced features and styling is possible
Table of Content, subject index, index of images, footnotes are standard for word processing software
A lot of documents are already available in DOC format so that it is easy to import into the word processor software
The only disadvantages of these software packages are:
the positioning of graphical elements is more difficult compared to Canva, Designrr, etc.
creating colorful backgrounds is not the strength of this software
Pricing:
The basic versions of Word and Docs are free. The cost of the premium versions depends on the version of Office or Google Workspace you are subscribed to. Pages from Apple are free for every owner of a Mac computer or an iPad.
Adobe InDesign:
Adobe InDesign is the book design software from Adobe within the Adobe graphical software. It offers a lot of features that are necessary to create professional books and also professional ebooks. InDesign also tightly integrates with other Adobe software for graphics or photo creation like Photoshop or Illustrator, this allows the creation of the asset in this package When you are finished with the creation it is easy to integrate the asset into InDesign and then into your eBook.
The downside of Adobe InDesign (commercial license) is that it has a very steep learning curve as there are a lot of options. With InDesign, you can not simply start with the creation of your ebook, which you could do with Canva, Designrr, Sqribble, or your word processor software that you use every day.
Features of Adobe InDesign:
software created to create complex layouts for books and other printed or digital material
automatic page numbering
automatic Table of Contents
creation of multiple different formats
upload and integrate your images or graphics into your ebook
can also be used as a kindle ebook creator software
Pricing of Adobe InDesign:
Adobe InDesign is only available as a subscription from Adobe. The subscription to only Adobe InDesign costs 20.99 USD per month. The subscription for Creative Cloud that includes Photoshop, Lightroom, Premiere Pro, Illustrator, etc is 52.99 USD per month.
Lucidpress:
Lucidpress is also a great tool to create an ebook. It offers similar to Canva & Designrr an easy-to-use drag-and-drop editor to position your elements and create professional-looking eBooks without the need of a steep learning curve or hiring a designer.
Features of Lucidpress:
huge list of templates to choose from, so that you have a basis for your ebook
creation of brand assets, so that all your documents match your corporate design
customization of the templates
powerful editor to design your ebook and enter content
automatic page numbering and table of content
smart fields
search directly from within Lucidpress the Unsplash image gallery for images
comprehensive support and training section
import InDesign file
download your finished product as PDF, JPG, or PNG
import content from Google Docs or Word
Pricing of Lucidpress:
Although there is a free tier of Lucidpress to create an ebook you need at least the PRO version. The PRO version costs 10 USD per user and month when you pay yearly.
Visme:
Next on the list is Visme. Visme is a cloud-based creation platform for visual content.
The main focus of Visme is presentations and infographics. The tool has powerful tools to create professional-looking and high-quality visual content within minutes. However, you can also publish eBooks with this tool.
To create an eBook, Visme offers a lot of professional-looking templates to make eBooks from. The templates are customizable with the editor.
The powerful editor works similar to the editor of the other eBook software like Canva or Designrr.
When you are using the PERSONAL edition you can download your created eBook as JPG, PNG, or PDF. When you upgrade to a higher tier, you can even download it as a Powerpoint or Keynote file.
Features of Visme:
Pricing:
Although Visme has a free plan, you cannot use it to create ebooks as you need at least the PERSONAL plan. Only with the PERSONAL plan, you can download PDFs of your creations. The free plan only allows you to download JPGs or PNGs. The PERSONAL plan is 29.00 USD per month.
Bit.ai
Bit.ai is a cloud workplace and document collaboration platform. Bit.ai offers a modern environment for teams to collaborate on a document. This modern platform offers a new way to create a document as you are not limited to just writing words but you can integrate any type of content into one document.
Your created documents are stored in the cloud and the platform includes a management function so that you can manage, share and track your created documents that can also be exported as PDFs.
In one document you can also include different online documents like Slideshares, Goole Docs, YouTube Videos
Features of Bit.ai:
offers a powerful editor to create your documents
you can import documents into your Bit.ai document
Table of Contents and page numbers are supported
you can even write your document in markdown
export your document in a lot of different formats like PDF, Word, etc.
extensive support to collaborate during the creation of the document
through the support LaTeX, you can integrate complex mathematical formulas into your document
extensive support to save your document also in external cloud storage services like Google Drive, OneDrive, and Dropbox
Pricing:
Bit.ai has four different pricing plans. They range from free to pro (for 12 USD per month) through business (20 USD per month) until enterprise.
Of course, the free plan is limited in its functionality. The biggest restrictions for ebook creators are that there is a file limit of only 5 MB which can be reached quickly if you include images into your documents. In addition, you cannot export your creation from the platform.
Powerpoint / Keynote / Google Slides
I have already looked into the option to make ebooks from the common word processor software. However, you can also create PDfs with not only the word processor software but also the presentation software from the office suites.
These programs also offer you the option to save or export your presentation into a PDF file. These tools were created to create high-quality visual content without the need to be a designer.
This makes this software ideal to create visual elaborate ebooks. The advantage of the presentation software over word processors is that you can design and place visual content easily on each page without affecting the text on the page.
Features of Powerpoint / Keynote / Google Slides:
some templates are available with the standard software, more templates are downloadable for free on the internet
images can be included from free image galleries like Pixabay, Pexels or Unsplash
fonts are included in the software or you can install a lot for free fonts from Google
as these tools are professional presentation software they offer extensive grammar and spelling checking support
you can create unlimited ebooks with an unlimited number of pages
storage in the cloud is included
automatic page numbering even with advanced features and styling is possible
Pricing:
The basic versions of Powerpoint and Slides are free. The cost of the premium versions depends on the version of Office or Google Workspace you are subscribed to. Keynote from Apple is free for every owner of a Mac computer or an iPad.
Kindle Create
This is a program that you have to download and install on your local computer. It is developed and published by Amazon. with this software you can only write eBooks for the Kindle store as you cannot export your created work to a PDF outside of the Kindle store.
Because of this, I have not looked into the software more as it is not suitable for creating lead magnets.
Why you should write an eBook for your digital marketing:
Lead Generation Tool
For online businesses and bloggers, it is important to build and grow an email subscriber list, most do this through the offering of a lead magnet. One of the most common lead magnets is eBooks.
An email subscriber list is a very cost-efficient and effective way to engage with your visitors and encourage them to get back to your website and interact with your content.
The eBook as a lead magnet should include valuable information that is so valuable that the visitor is willing to provide you with his email address in exchange for the eBook with the information.
To start using a lead magnet for the growth of your subscriber list, you need a lead generation plugin that you can integrate with your newsletter or email marketing automation tool.
Earn Passive Income
Most bloggers and digital marketers dream from a passive income source. eBooks can be a good source of passive income. You can write down your expertise in your field in an eBook and promote it to your website visitors, social media followers, or on other eBook platforms.
There are a couple of popular and well-known eBook platforms next to Amazon on which you can sell your book and earn income. You can also learn how you can earn money with an eBook in my how-to about making money from affiliate marketing without a website.
Easy and Inexpensive to create
eBooks are inexpensive to create as you basically do not need any additional hardware or tools than your computer. You do not need a video camera if you want to create videos.
It is easy as you do not need to download and install any software. You do not need a number of tools but just one platform.
In its basic process, you only need to choose a template, change the title and start writing your content for the eBook.
I use Designrr as I find it the best option and a good combination of features it is offering and ease-of-use. It allows you to create professional-looking eBooks from your existing content with the option to include a table of content, a visual good-looking cover, header & footers, and automatic page numbering.
If you just want to test the creation and the usage of an eBook you can also use Canva to create an eBook for free.
What is the difference between the different eBook formats:
PDF – Portable Document Format
PDF was created to allow the transfer of documents from different programs and platforms so that the document looks the same.
PDF is the most common document format on the internet and almost everybody has software to open and read a PDF document. It does not matter if it is a computer, tablet, or smartphone.
All programs reviewed
ePub – ePublication
In contrast to the PDF, format ePub was created to publish eBooks on different devices. ePub is a responsive format, which lets the text wrap into a new line and change the font size depending on the size of the device your reader is using.
ePub readers are available for desktops, special ebook hardware, and even smartphones.
Because of the responsiveness, your eBook cannot have such a complex layout and usage of graphics compared to PDF.
Designrr offers comprehensive support for the ePub format.
Mobi
Mobi is the exclusive format for the Kindle eBook Store by Amazon.
Mobi is only used by Amazon, all other eBook stores use the more common ePub format.
If you want to publish your finished eBook on the Kindle Store you need a software package that allows the download of the finished eBook in the Mobi format.
What is the best ebook Creator Software:
The market has changed a lot in the last couple of years especially the online eBook designer software has made it so much easier to write an eBook.
This software-as-a-service offering offers a lot of high-quality templates for an eBook so that you can create professional-looking and also complicated eBooks.
This software is also easy-to-use, has a short learning curve, and does not cost a lot of money.
I have decided to use different software for different reasons:
I like Designrr has it allows me to create visually comprehensive and professional-looking ebooks
In addition, I use Word or Docs for some eBooks, that are more text and less graphics-heavy as they offer tools that help longer and more complex eBooks.
If you are a graphics designer and are already familiar with the Adobe Creative Cloud software I would take a look at Adobe InDesign. At the moment I have not included any free ebook creation software in this review. I will add it later.