DISCLAIMER: For this Speechelo review I have access to the product and can describe in detail what the software can do and what are its shortcomings. I will show you screenshots of the members area. This site contains affiliate links to products. I may receive a commission for purchases made through these links.
This is my in-depth Speechelo review with the main goal to introdruce you to the software and how it is working and answering all your questions. After reading this review you should be able to make a good purchase decision. Speechelo is a text to speech software in the cloud that allows you to get good voiceovers that sound natural through the usage of artifically intelligence.
The voice and the sound of a video is very important for the success of your videos. Videos are used more and more on the internet for communication, education and marketing, but often the voice overs are not of high quality.
An attractive VoiceOver however can make a video more engaging and effective for its viewers. The Speechelo software supports you converting written text to an attractive VoiceOver that sound natural and like a human through the use of advanced technology and artificial intelligence.
After reading this Speechelo review you will understand how the software works, it advantages and if Speechlo is worth its price.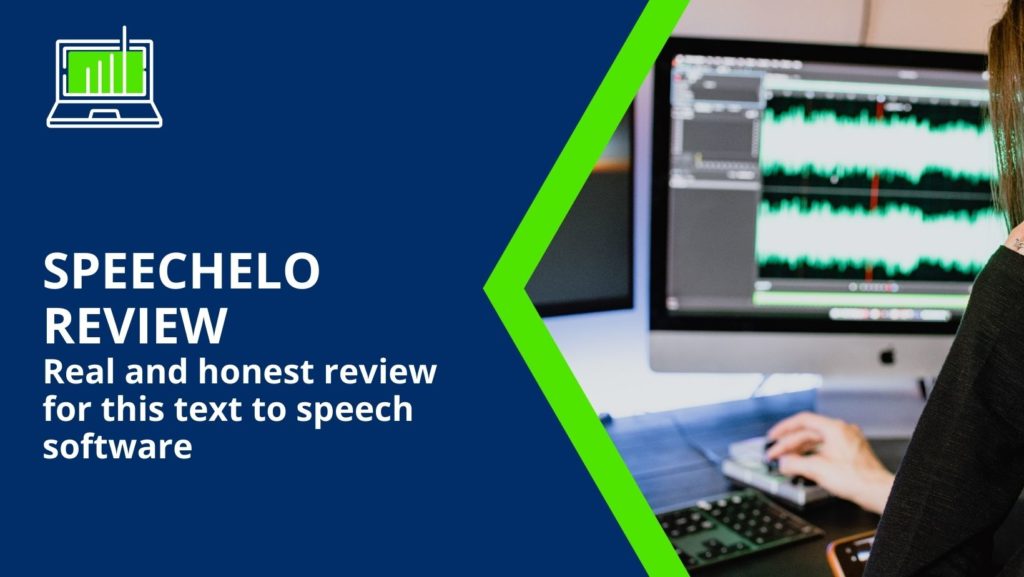 Ultimate Speechelo Review – The Beginning
What is Speechelo and text to voice
Speechelo is a text to speech or text to voice software that runs in the cloud and your browser. A text to speech software takes your written text and converts it automatically into a voice file. Speechelo uses for this advanced technology and newest artificial intelligence technology. This allows Speachelo to create very human and natural sounding voice files. In the software you can select from a variety of languages, speakers, general tonality and reading speed. The created sound file you can use with any video software and added as the audio part of your created video.
What are the steps needed to create your audio file – Speechelo Review
To create the voiceover from your text, there is an easy 3-step process, so that you can have a version of your voiceover in a few minutes.
Step 1 – Paste your Text:
To start the process you have to copy or text into their editor. The software will analyze the text and add punctuation and pauses. In this part you can later optimize the text with your own punctuation to even optimize voiceover, so that it sounds even more human
Step 2 – Choose a voice and language: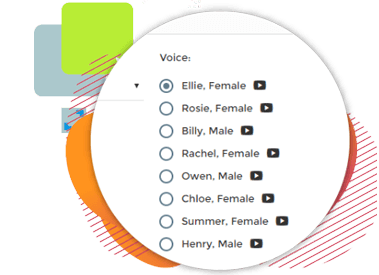 After you have entered and fine tuned your text in the first step. in the next step in Speechelo, you have to select your language and the tone of the voice. Depending on your language you have a variety of speakers. To make your generated sound file sound more natural you can add breathing sounds and define the speed of the reading of your text.
Step 3 – Create a voiceover and download: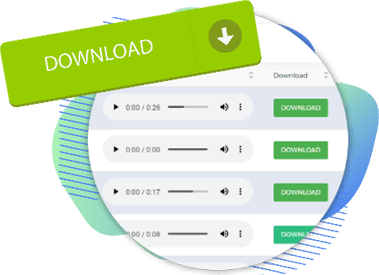 In the last step the software creates your voice over. You can listen to it directly in the software. If you are satisfied with your result, you can download the file directly to your computer. You are also able to fine tune your result and change settings like reading speak and punctuation.
Speechelo Software Features – Review
Transform any text into speech:
If you are creating videos and don't like to use your own voice or you are just trying to use any other voices for your videos then no more worries about it .you will find this software with its amazing tools that enable you to transfigure your text messages or contexts into speech.
Male and female voices:
The software provides male and female voice options for your text. You can select the voice that matches best your product and target audience. For some languages they also offer different speakers.
Multiple languages support:
This software comes with multiple languages support, it works in English as well as you can use it for other languages including Arabic, Mandarin, Danish, Dutch, French, Turkish, Spanish, Russian, Romania, Korean, Italian, Japanese, Polish, Swedish, Welsh and many more; As it supports and works over 23 different languages and simple to use, unlike many others …… here you just have to simply paste your script, choose a voice and download it.
Over 30 human-sounding voices:
In addition to the 30 different speakers, your text is made sounding even more natural by adding breathing and natural pauses to your text. Speechelo also adds automatically the proper punctuation, you can optimize and customize the result by adding your own specific punctuation. Other details of the voice file that you can customize to your liking are the voice tone, the speed and and pitch. This makes your sound file sound unique and makes Speechelo one of the most feature rich text-to-speech softwares.
If you buy the PRO upgrade (more on it below) you will get even more human sounding voices. The PRO upgrade doubles the voices from 30 to 60.
Speechelo provices 3 different tones:
It sounds like something interesting right! Yes, it provides 3 different ways to read your text; you can simply choose a normal tone, joyful hilarious tones, and also serious tones.
Which will make your videos super excited to watch and also to listen.
No running costs and expensive external costs:
Normally you would have to pay an expensive voiceover artist or a freelancer who can charge you 2 to 3 days for creating a VoiceOver.
With Speechelo you only pay a one-time low price and can create unlimited voiceovers in a high quality. If you decide you need the PRO version, you are still only paying a low quarterly price and have even more functionality in the package.
Works with different video creation software:
As you can download a standard audio file from Speechelo platform you can combine the audio file with your video in any video creation software like Camtasia, Adobe Premiere, Final Cut, iMovie or Screenflow. You can also use the audio file in any audio software like Audacity, Garageband or Adobe Audition to process it further and combine it with audio, sound effects or another voice file.
Create different types of videos with the voiceovers:
You can use the combination of the Speechelo voice file and video creation software for creating attractive sales videos for your business, you can create training videos, educational videos, Review videos for your business products, Demonstration videos, and many more.
Background music tracks included in the license:
It also provides you a variety of genres of music for your background music track to make your videos sound good. Provides you cinematic tracks, joyful tracks or motivational tracks, and many more tracks with a different variety.
Easy to use and Beginner friendly interface:
Speechelo is beginner friendly and easy to use. Its interface is beginners friendly. You do not need any experience with text-to-speech or audio software. Simply you just have to paste your script, choose a voice type from its huge voice collections, simply download it and use it for your video.
Commercial license:
When you buy Speechelo you get a commercial license, this means that you sell your voiceovers or the created videos in which you integrate the voiceovers and keep all your revenue as a profit.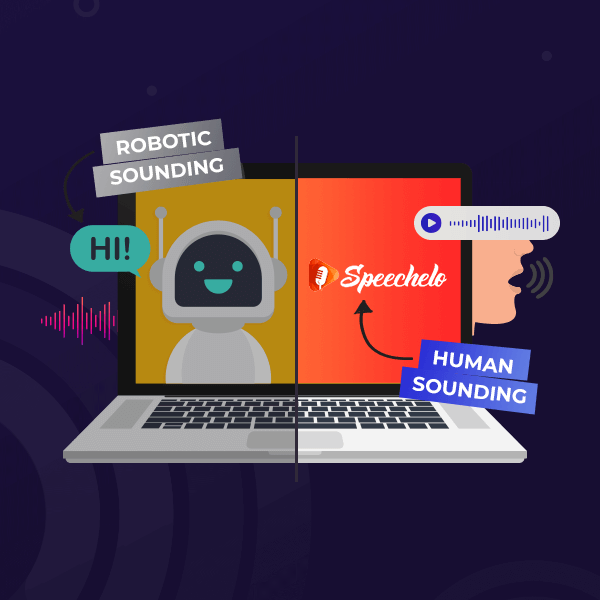 Why is a good voice over software important for your video?
It generates more sales – A video with a human sounding voice that sounds natural is more convincing. Furthermore, because creating the VoiceOver with Speechelo is faster and cheaper you can test more scripts and find the best performing one.
You will get more view – Good voiceovers are more engaging for your viewers and will capture them in your video. Thus more viewers will watch your video to the end.
You will gain more subscribers – With a good voiceover more viewers are likely to subscribe to your channel or join your mailing list. More subscribers means more viewers for future videos as either they are notified automatically or you can notify them via e-mail.
Your videos will rank higher – As you videos gets more views and your viewers are more engages and watch your videos until the end, your videos are ranked better by the algorithm.
Your save time creating your videos – When planning and creating the voiceovers, you are faster, as you do not have to wait for the freelancer until they are ready and have optimized the voice file. You can do it all alone on your computer in a couple of minutes.
Speechelo Review – Pricing and editions: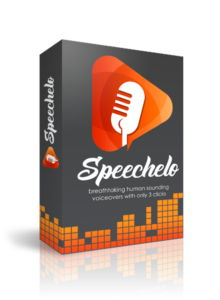 Front-End – Speechelo Std
Cost: USD 47 one-time
The Starter pack of Speechelo cost you only $47 and this offer is for limited time only, If your requirement is not so high & you wan't to use this tool for your personal use then you don't need any extra Upgrades.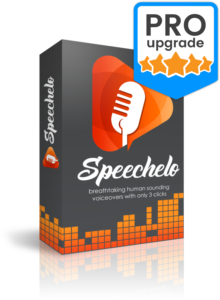 Upgrade 1 – Speechelo Pro
Cost: USD 47/ quarterly
The Speechelo Pro Edition adds 30 more different voices to your selection of already 30 voices, so that you have a greater variety. In addition the limitation to 700 words in a script is removed and you get background sound to integrate into you voiceover
Upgrade 2 – Tube Add-On
Cost: USD 37 one-time
Comparison Speechelo standard vs pro in this speechelo review
The Pro version of Speechelo is a quarterly cost of 47 USD but it offers some useful additional features foruy our text to voice conversion:
Speechelo Standard
The standard version offers you 30 voices in 23 languages
You can create voiceovers with a total word length of 700 words
Speechelo Pro
It offers more variety of voices for your project. The total number increases to 171 voices.
Create longer voiceovers, in the standard version your voiceover can be 700 words long, in the pro version your voice over can be 4x times as long.
You get new options to organize your different voice projects when you are working with a lot of different clients through a campaign support, so that you can continue working efficiently.
Through a "MERGE" function you can use multiple voices in a single voice file, thus create dialogue type voiceovers that increase engagement with your videos
In this package you get also 40 background music tracks which you can use in your projects.
It includes a commercial license which allows you to sell your voiceovers to clients and keep all the profits.
BONUS: Voiceover Cash Maschine Training – a course that teaches you where you can find clients to provide a service to sell the created voiceovers with Speechelo to clients for a price and earn money.
Speechelo Review – The Pros and Cons
Pros
Easy to use – the software is optimize to be used by regular users with easy workflow and easy to understand settings.
Multiple languages and speaker – Speechelo supports multiple languages and different voices.
No programming or coding required – you do not have to send your text through an API, everything is ready to use for you the enduser.
Customize the speech through the adaption of the breath, reading speed, emphasis and pitch level, so that it sounds more natural and human.
Unlimited voice generations comes with Speechelo standard edition. only the amount o f characters is limited, not the amount of voiceovers you generate.
Cons
Standard version has a limit of 700 characters, which limits the usage for some uses cases. Even the pro version has some limits, so that it is not suitable to create audio books, but should be enough to create voiceovers for your videos and animations.
The selection of languages is limited to only 23.
Some languages only offer two speaker, one female and one male.
Speechelo Alternatives
There are couple of other text-to-speech software solutions on the market that are alternatives to speechelo. I am currently processing the information for this comparison and will add it later.
Talkia vs Speechelo
Read the full Talkia review here.
Speechelo vs Amazon Polly
Speechelo vs Murf
Speechelo vs Speechify
Speechelo Review Conclusion
Speechelo is a good and easy to use text to speech software that is ideal for some but not all use cases. The product is ideal to create short and with the PRO edition medium voice overs for your videos. It is especially suited for the beginner because of it's easy to use user interface and easy workflow. The software allows you to create human sounding and natural voiceovers in three easy steps and also the power to customize the sounding of your voice even more through pitch levels, reading speed and punctuation.
Because of its limitations for transferring characters to speech I have to state in this speechelo honest review that it is not suited to create audio books and voiceovers for complete movies. In addition you should check if your language is supported if you want to create voiceovers for exotic languages.
If you are a pro you should look into Amazon Polly which allows unlimited text to speech creation, how ever you have to use an API and code your parameters directly for the API. Speechelo is a good performing affiliate offer on Clickbank.
Frequently Asked Questions about Speechelo
What does Speechelo cost?
The standard version of Speechelo costs once 47 USD. The upgrade to Speechelo, the Pro version, costs additionally 47 USD each quarter.
What is Speechelo used for?
Speechelo is a text-to-speech software that converts text to voices. Speechelo is often used for voiceovers of videos, presentations, product videos or animations.
Is Speechelo one time purchase?
Yes, the standard version of Speechelo is a one time pruchase and costs only 47 USD.
Is Speechelo a subscription?
Only the upgrade to Speechelo, Speechelo Pro which offers additional features especially a greater variety of voides is a subscription that costs 47 USD each quarter.
Is Speechelo cloud based?
Yes, Speechelo is a cloud based software that runs in the browser of the user. The created voiceovers and the basis for these voiceovers the written text is saved within the software in the cloud.
Which is better Speechelo or Talkia?
Both software have a different focus of their usage. Talkia has more voices and you can convert longer text. However Speechelo offers you more options to make your voiceovers sound more natural. I will make a more detailed review of Talkia in the next couple of days.
What is the best text to speech?
I will create a big review with a couple of text to speech software packages. Please come back later in a couple of days.