DISCLAIMER: For this MediaCloudPro 2.0 review I can describe in detail what the product can do and what are its shortcomings. I have bought this product and the OTO myself and I am currently using and testing the software. This site contains affiliate links to products. I may receive a commission for purchases made through these links.
This review introduces you to the cloud service MediaCloudPro 2.0 that was recently launched on JVZoo. The service actually consists of two features that every online marketer or business owner needs and is always looking for. The one part is a huge stock image library with over 9 million images, graphics, icons, audio or HD vidoes, which are offered through out the sales funnel. In order to be able to do convert these images in unique material for your website or social media presence there are two image editors included in MediaCloudPro 2.0 and an easy-to-use meme creator to edit videos. The images can be downloaded to your computer, they can be edited on the plattform or directly shared to Facebook or Pinterest. This is the ONE plattform that provides everything to create from your idea high converting marketing material and design. Search within the huge media library, create your marketing material with the editors and download it to your computer.
When buying MediaCloudPro 2.0 you have the option to purchase the agency version, which provides you with a huge revenue potential. With the agency rights you are allowed to sell the available images or your created marketing material directly to your clients. Good visual marketing material including images and of course videos is in huge demand as every business, online marketer or entrepreneur needs images for their website and social media presence. Videos are needed to make website more engaging thus let them rank higher on Google. On social media postings that include videos are also getting more engagement and more reach. You can also the created graphics in your e-mail newsletter and marketing commnication.
This tool is perfect for everybody that wants to earn money on the internet.
Ultimate MediaCloudPro 2.0 Review – The beginning
MediaCloudPro 2.0 Review – How does it work
The MediaCloudPro 2.0 media library works like a stock photo library and image editor in one integrated service. This allows you to easily and efficiently create stunning visuals and images that turn your sales material in high converting sales pages.
When you enter MediaCloudPro 2.0 you reach your dashboard.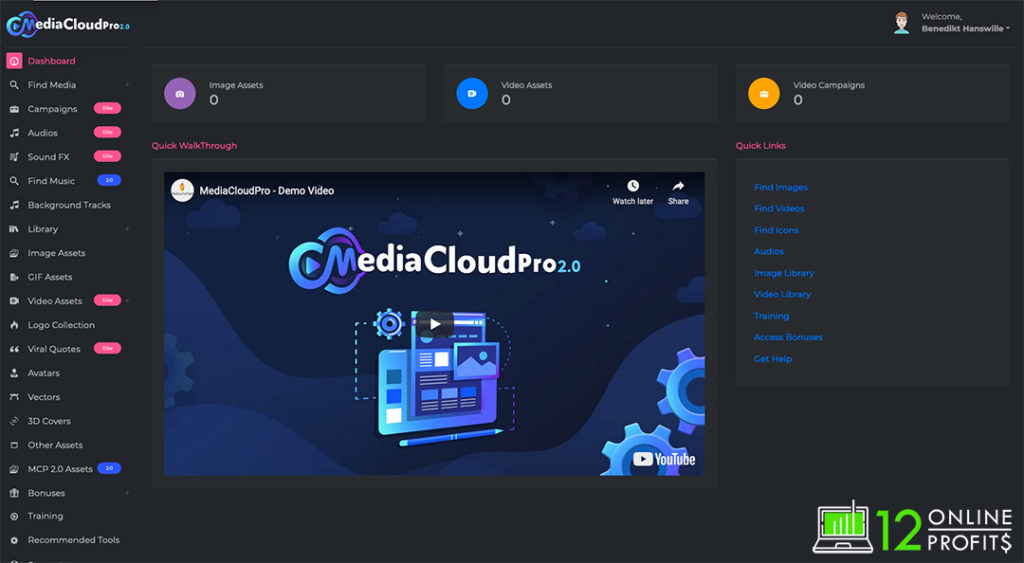 In most cases you will most likely enter the find media part in which you can search for images from over 9 million available and other media assets. From the search results page you have a couple of options. You can share the image directly to Facebook or Pinterest. You can choose to download the image to your computer to edit it or use it in an other program or upload it to your website. In addition you can hover over the image and open the image directly in one of the two image editors. The editors are also in the cloud, so that you do not have to install any software on your computer.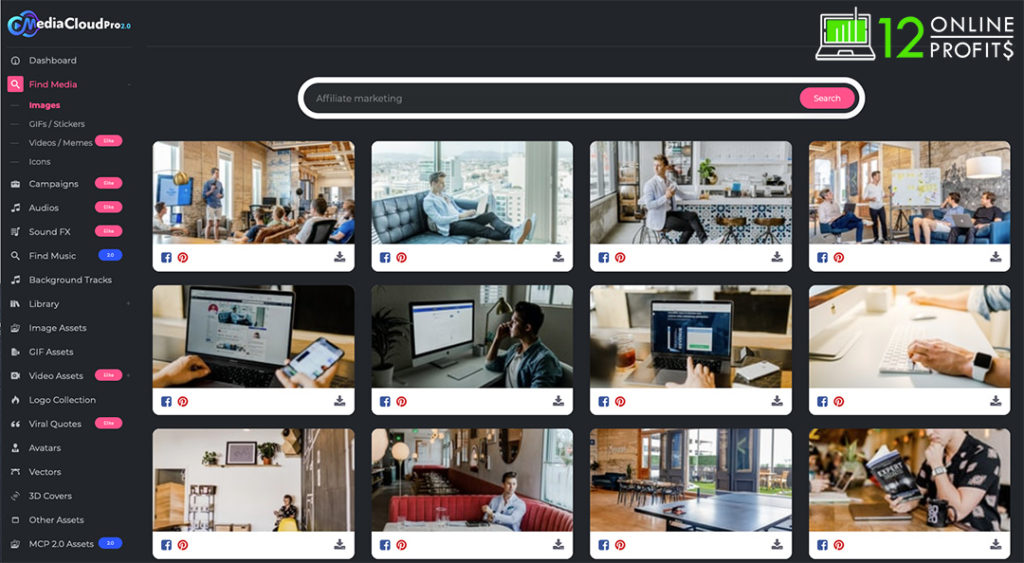 When you want to edit the image, the selected image is directly loaded into the photo editor. This program is almost an online version of photoshop. You have most of the everyday features of photoshop including adding elements to the image in layers, so that you are able to fine tune the arrangement of the elements. The software also features filters and effects for the different layers. When you are finished you can download the image to your computer either as a JPG or even as a PSD file. The advantage of the PSD file format is that is compatible with photoshop and most other image editing software and that this format saves the layers. When the image still contains your layers you can rearrange the elements later, change the text or disable certain elements.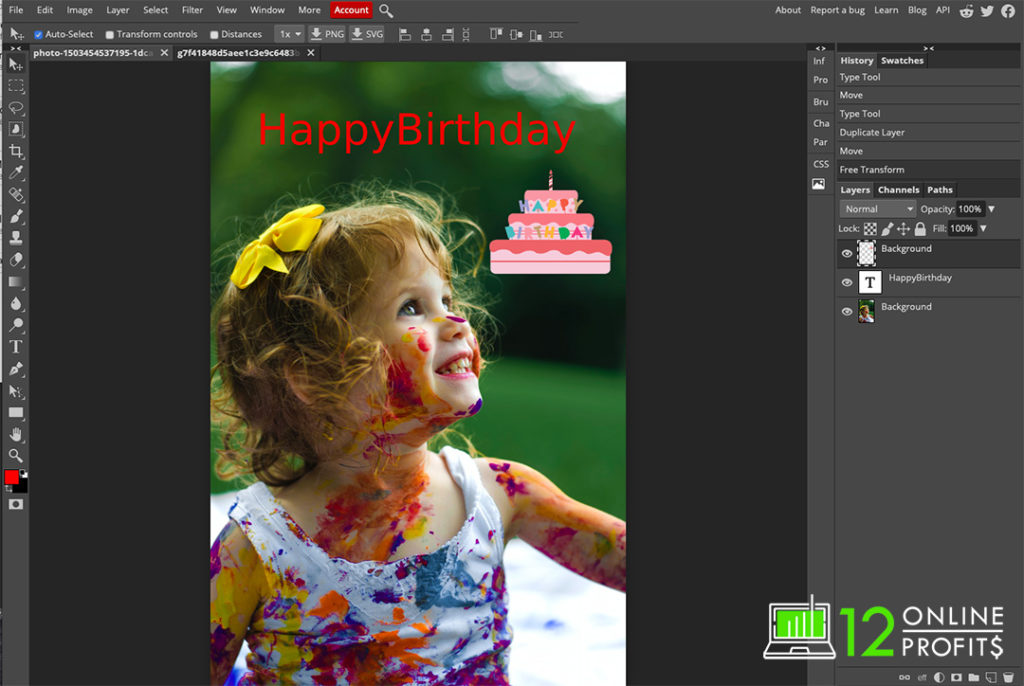 When you buy MediaCloudPro 2.0 you will also get access to a collection of over 25,000 logos that you can change to either fit your brand and company or you can adapt the logos and sell it as part of your business.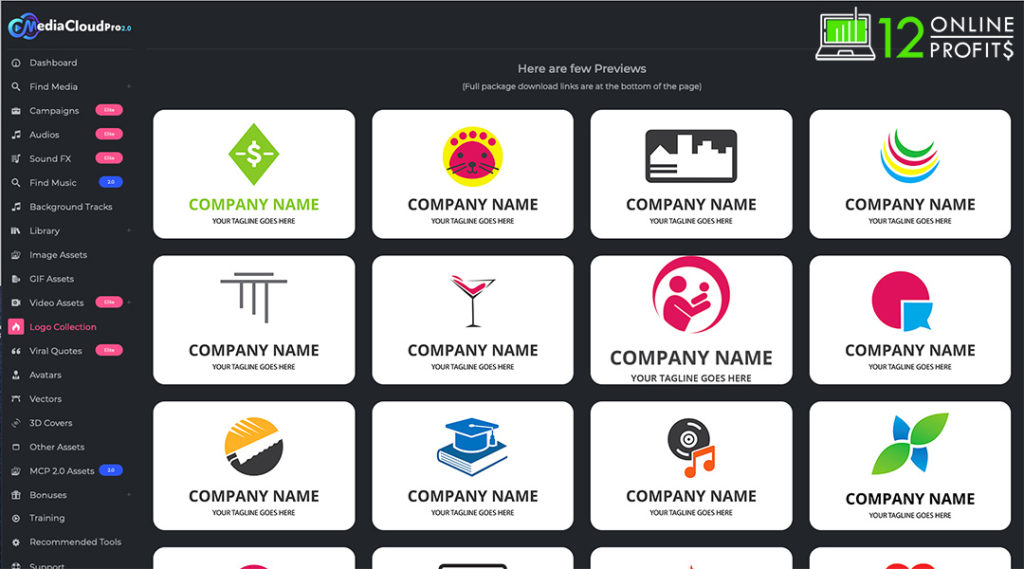 One other kind of graphic assets that are included are animated GIFs that you can also download from the plattform. There are over 8,000 animated GIFs that you can use in your social media postings, in your comments or other areas.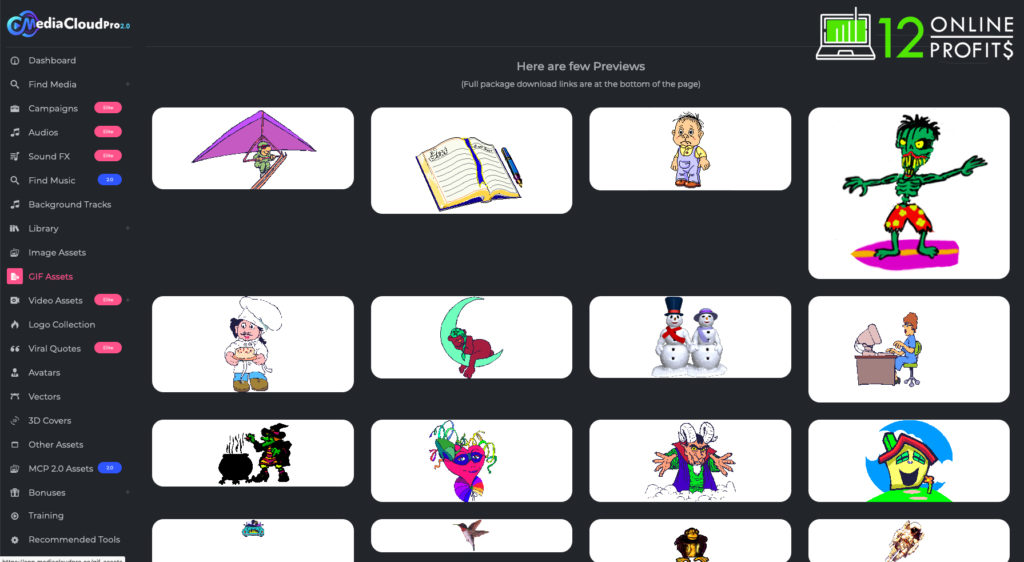 Key Features of MediaCloud Pro 2.0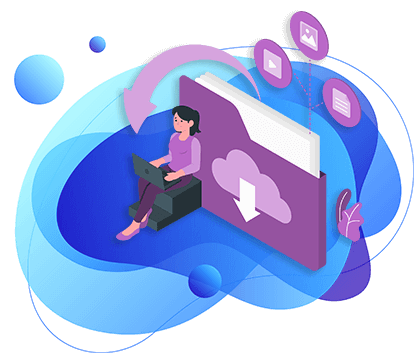 Search over 9 million images and download unlimited images
Within MediaCloudPro 2.0 you can search in over 9 million assets. When you find the images that you want, you can download an unlimited number of assets from the massive library to your own computer. You are allowed to use them in your own projects with complete security that there is no copyright infringment.
Create unlimited graphics and ads
MediaCloudPro 2.0 includes two easy-to-use image editors that allows you to create unique graphics that you can use in your ads, social media posts, sales material or your website. The editors allow you to create stunning images with just a few clicks, and you do not need any technical or graphical skills.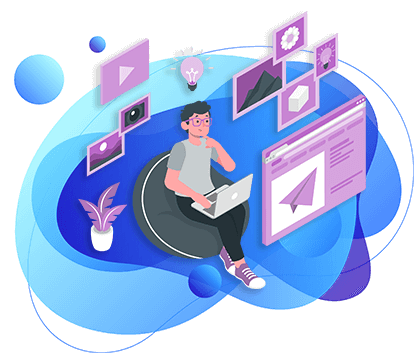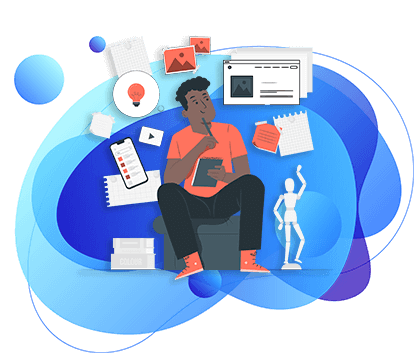 Edit Images / graphics from our library
With the completel newbie-friendly image editors that are part of MediaCloudPro 2.0 you can edit an unlimited amount of images. You can add text, stickers, filters, or blur the image, change the color. you an also do other adjustments to the images in a couple of minutes.
Convert images to other file formats
MediaCloudPro 2.0 also includes tools that allows you to convert the different graphical assets to other file formats. You can convert PNGs to JPGs and vice versa easily in seconds, so that you always have the best image format in thee best quality available for your project.s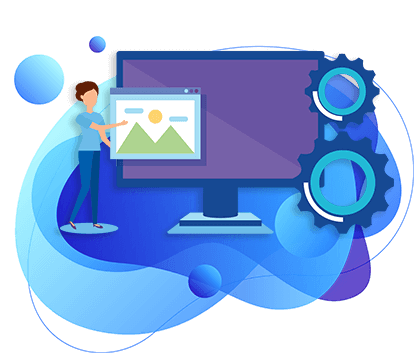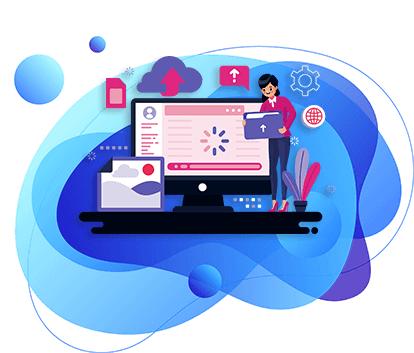 Upload your own images and edit them within MediaCloudPro 2.0
You can not only edit the images that you have find within MediaCloudPro 2.0 with the easy-to-use and beginnerfriendly image editors. You can even upload your own images from your computer or images that you have found on the internet. This feature allows you to use only one tool for all your image editing and have all assets available in one place.
Our powerful software seamlessly integrates with your FB and Pinterest accounts, which allows you to share your masterpieces on these social media giants with just one click.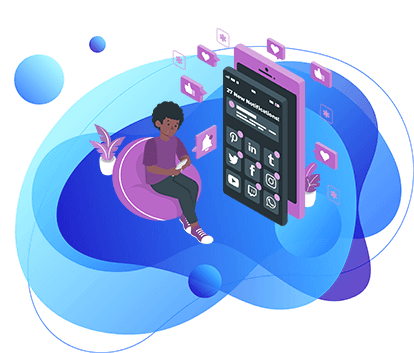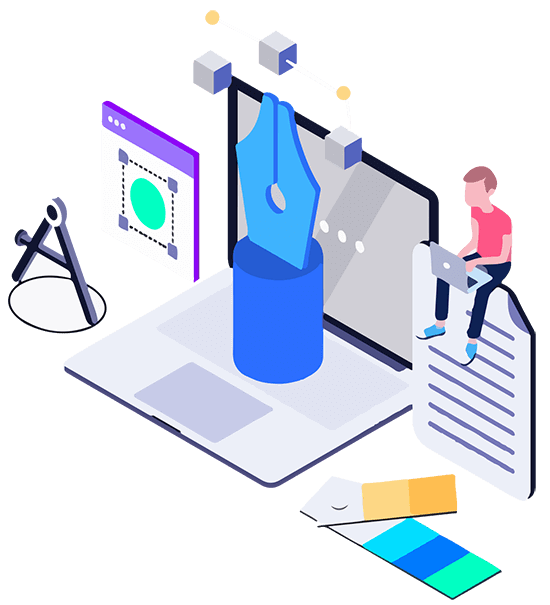 Mediacloudpro 2.0 with Agency rights available
Graphics, logos, and other types of images are vital for every internet marketing business. Offline businesses also frequently need graphics for many different purposes. This is something almost every business needs but struggles with.
There are millions of businesses that are already paying a hefty sum for graphics, logos, and images. And they are ready to pay you to help them with their design needs.
So you just have to give a few minutes of your time and in return, you can start earning big paychecks for the designs you have created using MediaCloudPro 2.0.

Many businesses already spend thousands of dollars a month on marketing. It's money that they are PLANNING to spend, because it's in their budget. A lot of that money often goes toward graphics and design. With these type of clients, you can charge $500 to $10k for a project, and they will be happy to pay you.
What are the features of MediaCloudPro 2.0
The software includes over 9 million searchable media assets (images, graphics, animations, stickers, icons and vector illustrations)
The media assets are available in multiple formats (jpg, png, gif)
Powerful and simple-to-use image editors for unlimited customization of your images.
More than 3.000 editable logo templates that let you easily create logos for your business or your clients.
Share the images directly to Facebook and Pinterest from the Mediacloudpro interface to grow your following and go viral.
Edit, Upload, Host and Create images, graphics, ads and banners with the easy to use editor of MediaCloudPro 2.0
Completely newbie friendly interface.
Who should consider buying MediaCloudPro 2.0
Online Marketer – Stop your audience dead in their tracks with unique, high-quality, captivating visuals and turn visitors into long-term customers.
Bloggers – Incorporate the most eye-catching designs into your posts to boost subscribers and attract more visitors.
Website Owners – Effortlessly create customized and jaw-dropping graphics or images that grab attention and engage your viewers like never before.
eCommerce Business Owners – Design stunning social media ads for your products and brands and in just a click share them on FB and Pinterest to gain massive exposure.
Affiliate Marketers – Promote your offers with fully customized, attention-grabbing images or graphics and compel viewers to buy your offers.
Social Media Marketers – Generate hordes of 100% free viral traffic on social media by posting dazzling images without all the effort or hard work.
Local Business Owners – Create customized, mesmerizing images or graphics for local businesses and sell them as a service to get paid handsomely.
Advertisers – Create beautiful ads and transform your audience into raving customers who buy repeatedly.
SEO Professionals – Replace text with breath-taking images or visuals to get higher search engine rankings and siphon additional organic search traffic.
Freelancers – Complete your orders quickly and deliver high-quality images and graphics that make your customers happy and bring them back for more.
Who is the creator of MediaCloudPro 2.0
Eric Holmlund is a well-known expert in Internet Marketing, Web Traffic, Online Businesses & Product Launches. He is reputed for being a talented entrepreneur who currently runs a 7-figure business that he built from scratch from home office.
He has successfully launched PLR Jackpot, The Graphic Firesales, Mega Bot,… Lots of people has recommended these products and complimented on how wonderful they are.
This time, MediaCloudPro 2.0 is not an exception and it will definitely do wonder for you.
Pro & Cons from this MediaCloudPro 2.0 review
Pros
You have access to over 9 million graphical assets from images, to animated gifs, to logos. When you buy the number of are even bigger with access to a lot of videos.
All the assets are of high quality, so that you can use them in your marketig material
No additional costs for downloading and using an image in your material, no recurring costs like for most image libraries.
You can share the images directly from MediaCloudPro 2.0 withouth the need to download the image and upload it again
You can also upload your own images and with the Elite editon also videos, so that you can save all your need graphical assets in one location. all your uploaded images have the same functions as the integrated one with direct sharing, editing, thumbnail preview and search.
You do not need any additional software or a freelancer to finish your marketing material
The plattform is easy to use and with the integration of photo editors you can quickly adapt or change an aspect of the image in one or two easy clicks without leaving the platform.
All the different assets are included in one easy to use interface and plattform
Cons
If you click on an image to edit it, it will only load a lower resolution image into the editor, however you can change to edit the URL and then a high resolution image is loaded.
The most of the images are not exclusive to MediaCloudPro 2.0 but from other free stock image libraries, but the integration makes it easier and faster to work and find.
MediaCloudPro 2.0 Pricing and Upsells
Front-End: MediaCloudPro 2.0 ($37 Personal & $47 Agency rights)
Over 9 million searchable assets like images, graphics, memes, stickers, icons, vector illustrations
two image editors
Over 475 avatars
Over 3,000 editable logo templates
Over 260,000 HD stock images
Over 400 editable product graphics (mockups, infographics, banners
One-click image sharing to Facebook and Pinterest
And much more
OTO 1: Elite Edition ($37 Personal or $47 Agency rights)
Over 5 million searchable stock videos
Over 50,000 searchable stock audio files
Over 15,000 downloadable HD videos
Over 750 downloadable 4k stock videos
Over 500 motion background videos
Over 450 viral quote images
Over 250 viral quote videos
Video library to upload, host and edit your videos
and much more
OTO 2: Resell Rights ($197)
Resell rights allow you to sell MediaCloudPro 2.0 as your own product and keep 100% of the profits.
Frequently Asked Questions for MediaCloudPro 2.0
Is MediaCloudPro 2.0 really newbie-friendly?
Yes, Completely! You don't need any special designing skills or technical experience to work with MediaCloudPro 2.0.
How Many Images Can I Create or Download?
As many as you want! You can create and download unlimited images from their library with or without editing. There are no restrictions.
Is there any training included?
Yes – there are a couple of step-by-step video tutorials to guide users on how to use MEdiaCloudPro and the included image editors. This allows you to be up and running right away.
Will MediaCloudPro 2.0 work on Mac and PC?
Yes, it doesn't matter what operating system you're using. MediaCloudPro 2.0 is a web-based application, so you can access it on any computer with an Internet connection. It is easy to use and works seamlessly with both Mac and PC computers.
What is the Delivery method of MediaCloudPro 2.0?
As soon as you order this innovative tool, you'll receive an email with the membership link and your log-in credentials. Once you log into the control panel you are all set to immediately start using the MediaCloudPro 2.0 software.
Conclusion of this MediaCloudPro 2.0 review
I have bought MediaCloudPro 2.0 with the Elite upsell for myself as I think it offers great value for the amount of graphical and video assets that are included and also the additional features it provides. When you are an online marketer, affiliate marketer or entrepreneur you need images, logos, gif and videos for all kinds of work. You need images for your website, so that it is not only text but an engaging experience. When you write a blog post it is essential to include images especially if you want to share it to your social media profiles. Videos are getting more and more important as the web is moving to videos.
MediaCloudPro 2.0 allows you to easily search for images, quickly adapt them so that they fit into your website, blog or social posting and then share them.