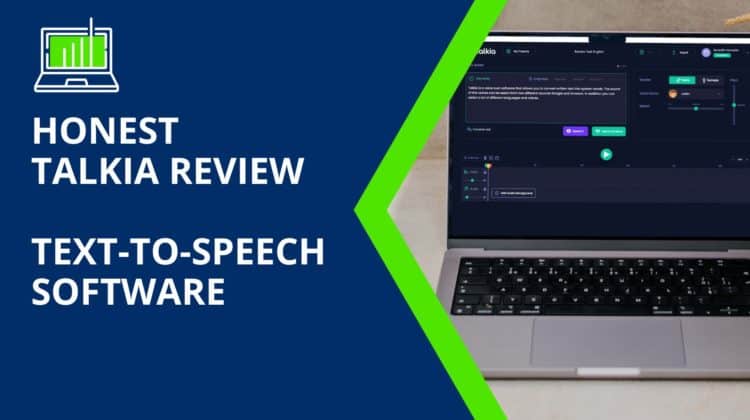 In this honest Talkia review I will write down my impressions of this text to speech software. I have tested a couple of text to speech tools to see which is the best TTS software for my use case. In general text to speech software like Talkia can be used to create voiceovers for videos and animations. You can also use this kind of software to create audio books or audio versions of your blog posts.
One area in which a lot of online business use voiceovers and often use voiceovers from text to speech software is for video sales letters. Research and experience has shown that video sales letters are a high converting marketing tactic for online businesses.
Note: This article contains affiliate links. When you click an affiliate link and make a purchase, we get a small compensation at no cost to you. See our Privacy Policy and Disclaimer for more info.
A text to speech software allows you to convert written text into an audio file. Text to speech software is already a couple of years on the market however only in the last couple of years thanks to artificial intelligence the generated audio files sound more like a real human voice. The advantage of a text to speech software is that you do not a professional and expensive sound setup and you also do not need to buy professional voiceovers for a lot of money from other companies, freelancers or UpWork or Fiverr.
Today most text to speech software is able to create human-sounding voice and also allows you to select different languages, different human voices and also select from a variety of male and female voices. Talkia has the option to create voiceovers in all major languages. In this Talkia review I will go into more detail about the specific features, functions but also the shortcoming of Talkia.
What is Talkia in detail
Talkia is a software that allows you to instantly convert written text into audio files. The conversion happens mostly in the cloud. However, in contrast to most other modern TTS software Talkia is a software that is installed locally on your computer and does not run in the browser. Talkia software is available in a version for Windows and Mac OS X. The advantage of talkia's editor is that it is very responsive and offers a rich user interface through the native app locally on your computer.
The created voiceovers of the Talkia text to speech tool are sounding very human as the software integrates with professional voice generating services like Amazon Polly and Google Wavenet. These services not only use high quality voices but also create human-like voiceovers by implementing artificial intelligence and machine learning to make it even more human-like. The software can create voiceovers in multiple languages.
Additional features of the Talkia editor are the options to add a unique humanized tone elements to each audio file by integrating delay, tonality or special emphasis to certain parts of the spoken text. This features to customize the voiceovers make it possible to create real human voices.
Talkia Review: How does Talkia work – Experience using it.
When you start the software on your computer it opens quickly and you are presented with a list of your saved projects. You can save your projects in folders so that it is easier to find them later. From this screen you can also create a new project.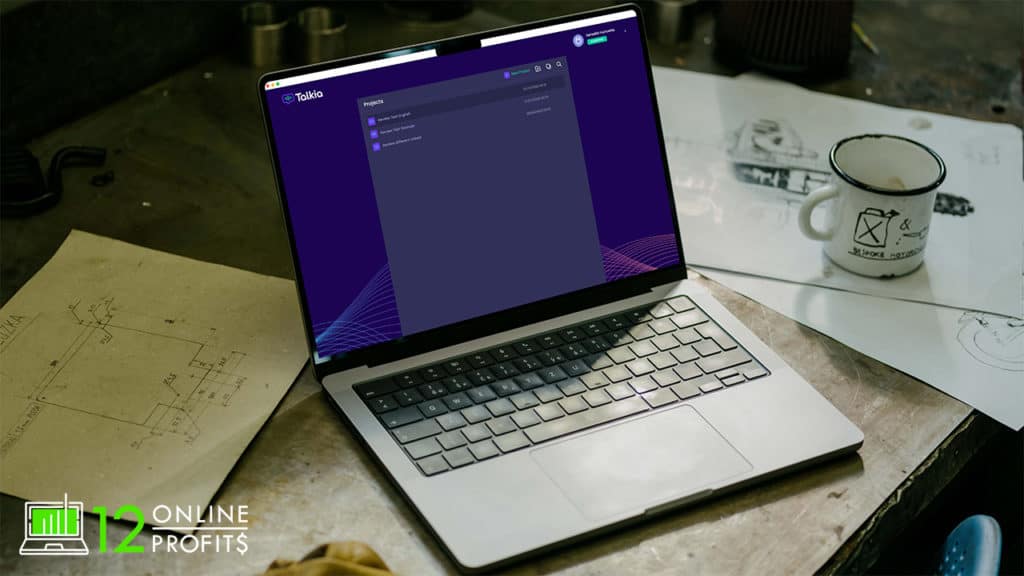 When you have created a new project you see Talkia's editor. The editor is split into three different areas. In the upper left area you are able to enter the text and add a unique touch to the voiceover through emphasis of certain words or delays between words. In the upper right corner you can select the different voice type.
The first step is to select if the speaker should be male or female. Then you can select from the different voices, Once a voice is selected the speed of the speaker and pitch can be customized.
A great feature of the Talkia text-to-speech software is the timeline in the bottom part of the editor. In this area the user can select from a plethora of professional background music and add background music tracks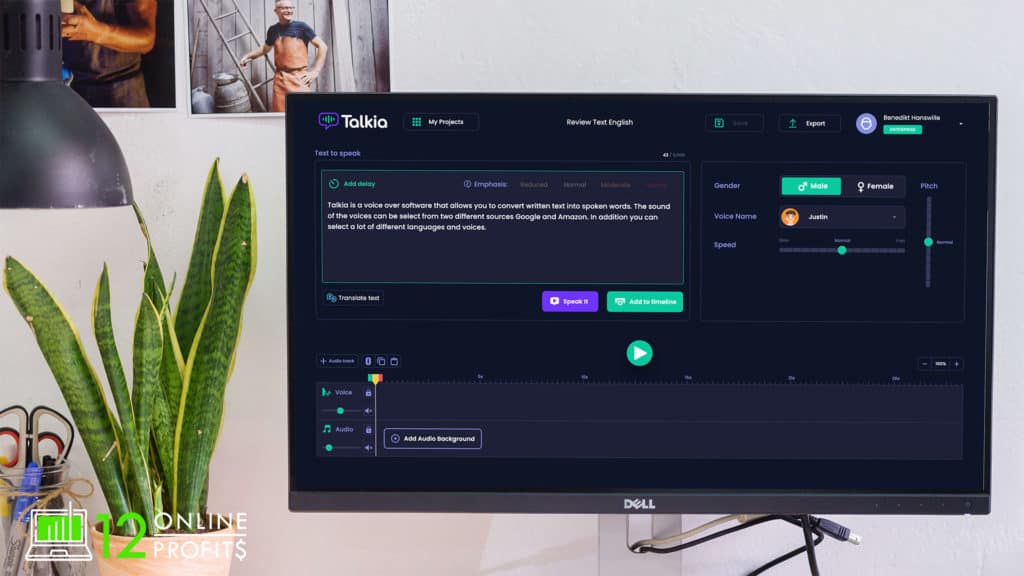 The voice selection is split into two parts. Firstly you can select which backend API to use to create your voiceover. You can choose between Amazon and Google. In the next step you can select if you want to use the "wavenet" version or the standard version.
The voiceover that is created via the "Wavenet" selection does sound a lot more natural as it uses artificial intelligence to make the create a more natural human voice as the software puts more emphasis and inflection on syllables, phonemes, and words.
In the next paragraph I have include some voice samples from the available list of as many voices as reasonable.
INSERT SOUND EXAMPLES.
Once you have selected the voice and entered the digital text the Talkia voiceover software can create the voiceover for you to listen to it and fine tune the version to get a final voiceover. Now you can place your text-to-speech voiceover on the timeline and add background music if you want to.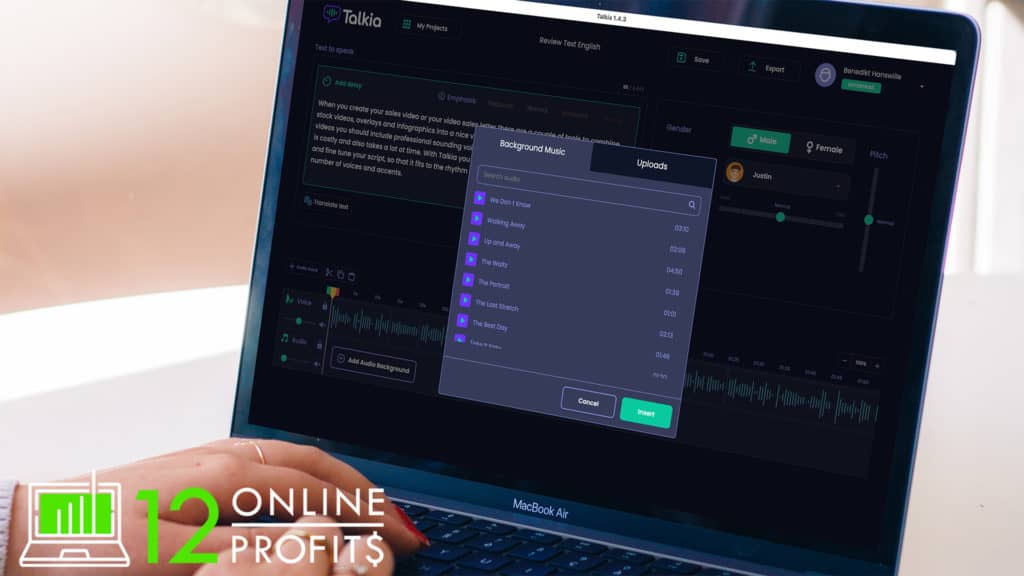 Incorporating background music is a simple process, you can select from a variety of free background music or you can upload your own music files into the cloud.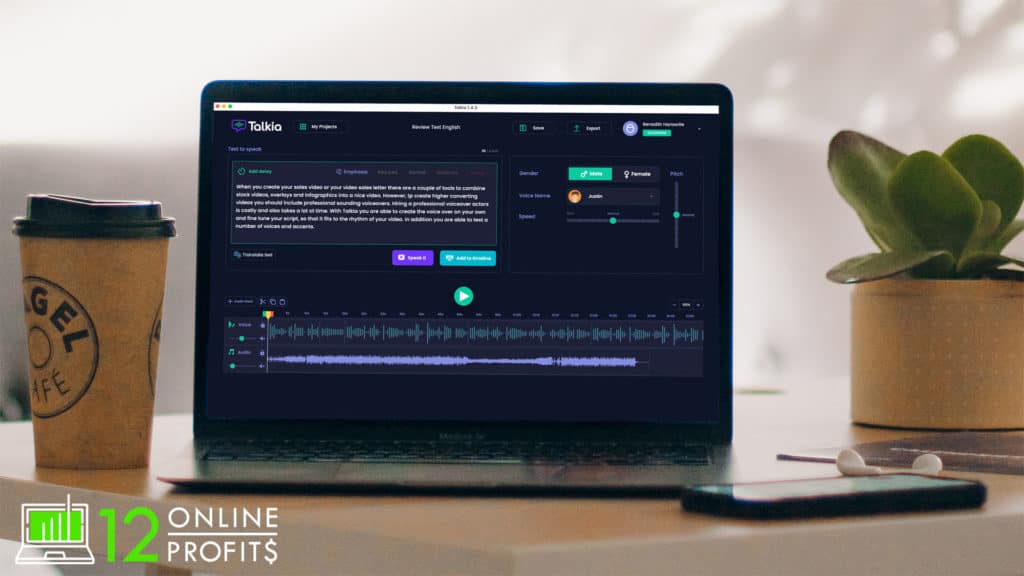 When everything is final it is easy to export the voiceover. The software exports it in a convenient mp3 audio format, so that you can easily integrate it in a video editor, video software programs or a directly into your youtube videos.
Where can you use the voice overs
Video Sales Letter (VSLS) or Sales Video
When you create your sales video or your video sales letter there are a couple of tools to combine stock videos, overlays and infographics into a nice video. However, tp create higher converting videos you should include professional sounding voiceovers. Hiring a professional voiceover actors is costly and also takes a lot ot time. With Talkia you are able to create the voice over on your own and fine tune your script, so that it fits to the rhythm of your video. In addition you are able to test a number of voices and accents.
Educational Video or Tutorial video
The same advantages are also true for tutorial or educational videos. With a good text-to-speech software you do not need to spend a lot of money on pricey voice actors but you can let Talkia do the job and you can concentrate on creating the best text for the tutorial video.
Training Videos
More and more businesses create videos to train their employees on their processes and software they use everyday. The cost of producing the videos has with modern screen-recording software dramatically over the last couple of years.
However, a good training video needs a voice over that explains what is really happening in the video and e.g. how the software is used. Hiring a speaker for this training videos can make the vide very expensive thus it is never created.
This cost can be saved when the voiceover is created by a computer and no speaker is needed. The voices from Talkia are so natural sounding that you can easily use them for your videos internally and externally.
Marketing Videos
Talkia is ideal for marketers who want to create more professional, higher-converting videos. Use Talkia for your explainer videos, whiteboard videos, FB ads, and promotional videos … creating a voiceover with the perfect pitch, tone, accent, and background music, for each and every video.
Video marketing
As it is easy to create good voiceovers with Talkia the tool is ideal for video marketing. you can type the text into the Talkia user interface, customize the text to make it sound even more natural and through the languages Talkia supports you can create videos for huge variety of clients. The advantage of Talkia is that you do not need to hire an actor to speak the text but you can do it easily. This makes is even easier to change the text for the video if the client wants it or a different text is needed to optimize the message and conversion.
Talkia features
General functionality
You can select from a great variety of speakers for your speech voice.
You can select from a voices from all a major languages, for some languages (e.g. English) there are even more voices available.
You can use the advanced speech models from Google for your voice overs that generate some of the best voices for text-to-speech software
You have different settings to customize your voice overs through the usage of a pitch setting within the editor. The pitch setting changes how low or high a voice sounds. With the speed setting you can decrease or increase the speed with which the voice reads your text.
When entering the text you can specify at which points within the text the voice should make a pause and how long to pause. in addition you can also add words that should be emphasized when the artificial intelligent system reads the text.
Talkia also has a selection of voices with an accent which make the voice over even more interesting or fitting depending on your target audience.
Talkia allows you to export the created voice over as an mp3 file, so that you can import it easily into your video creation software or video software programs. Making the software a ideal tool for video content creators
The software comes with an intuitive interface that provides an easy access to the complete features of the software
The created voiceovers are saved in the talkia's cloud
You have to install Talkia software locally on you computer so that the software is very fast and responsive
The software is available for both Mac operating systems and Windows
The creators of Talkia have created multiple videos to train new users. There are also step by step instructions available.
Talkia male and female voices
How many languages are supported by Talkia
Talkia supports multiple languages in its standard plan. The variety of languages gets even larger and there is a higher variety of languages when you upgrade to the enterprise plan. Please find the details in the table below:
Talkia Review – The pricing Overview
The Talkia pricing is based on a subscription model that you can get as monthly or yearly payment. There is a 49% discount on the yearly pricing plans. The yearly pricing plan is a great way to save money when purchasing Talkia. Talkia is available in two different tiers the "standard version" and the "enterprise version" which is kind of the pro version.
Within the enterprise version everything is a bit bigger. You can create long voiceovers, you have more choices of voices and more background music tracks. In addition you get commercial rights for the voice software. For the details see the list below.
Standard plan
1000 Words per voiceover
102 Voices
43 Male Voices
59 Female Voices
4 Youth Voices
30 Background Music
Enterprise Plan
5000 Words per voiceover
404 Voices
166 Male Voices
238 Female Voices
23 Youth Voices
150 Background Music
Commercial Rights
Talkia Pros and Cons
Talkia Advantages:
Talkia uses the state of art voice models from the leading AI companies Google and Amazon. This allows Talkia to create through advanced technology natural and human sounding voiceovers
It offers a huge variety of languages and speakers within the languages with male and female voices. In some languages there are even teen voices available.
The settings for the voices with regard to speed and pitch and the special formatting in the editor for pauses and special emphasis allows for a huge range of customization for the voiceovers.
The subscription model allows that Talkia is under active development.
Talkia offer cloud storage for all your created voice overs.
With the available Talkia voices you can create professional voiceovers
Talkia has a responsive customer support team
Talkia Disadvantages:
Talkia does not offer a free trial, so that you would be able to test the software and check if it does fit your needs
Normally Talkia is only available as a monthly subscription services and there is no one-time payment. The only way for a one-time payment is to purchase the …
Talkia Alternatives
Talkia vs Speechelo
You can read the full Speechelo review here.
Conclusion
The conclusion of this Talkia review is that Talkia is a very good text-to-speech software that creates high quality life like voices. Talkia uses the backend of Google and Amazon to create the voices, so that there is a continuously development of a better quality.
You have to install Talkia on your computer, so that it is very responsive to use. I personally prefer local software, so that you can quickly start the software from your local drive, although you still need a internet access, so that the software can send your text to the backend.
In addition I like that Talkia has subscription plan, so that I know the company behind Talkia has the motivation to continue improve the software and also the founds to hire developers.
What is text-to-speech?
Frequently asked Questions?