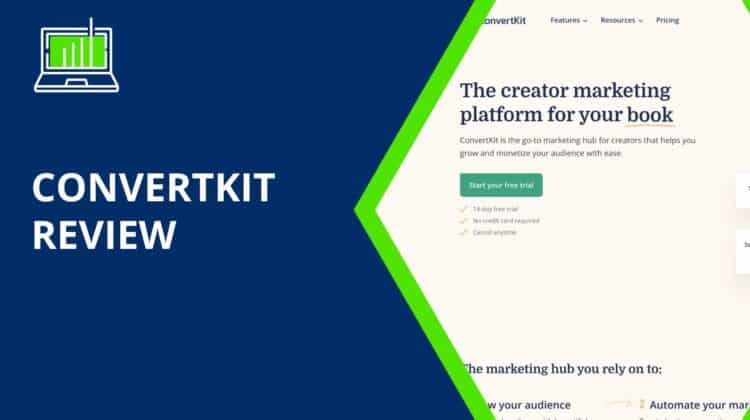 The Importance of a Good Email Marketing Tool
Email marketing is one of the most effective ways to connect with your audience, promote your brand, and ultimately drive conversions. However, managing an email list and sending out mass emails manually can be time-consuming and overwhelming. That's where email marketing tools like ConvertKit come in.
What is ConvertKit?
ConvertKit is an email marketing platform that was designed specifically for creators. It provides a variety of features that help you grow your email list and communicate with your subscribers in a more personalized way.
Why Choose ConvertKit?
There are many reasons why ConvertKit may be the best choice for your email marketing needs. One of the biggest advantages is its ability to tag and segment subscribers based on their interests, behaviors, and preferences.
This allows you to send highly targeted emails that are more likely to resonate with your audience. ConvertKit also makes it easy to create custom opt-in forms that match the look and feel of your website or brand.
These forms can be embedded on any page of your website or shared on social media to attract more subscribers. Another key feature of ConvertKit is its automated email sequences.
You can set up a series of emails that are sent out automatically over time based on various triggers such as when someone signs up for your newsletter or clicks a link in one of your emails. And if you're looking to sell products or services online, ConvertKit offers various landing page and email templates,, pages and sales funnels that make it easy to create a customized sales process from start to finish. ConverKit is also a good option for affiliate marketers that want to collect e-mails addresses by offering lead magnets to their visitors
Overall, ConvertKit is an all-in-one solution for creators who want to build their audience through effective email marketing strategies. In the following sections, we'll take a closer look at each of these features in more detail and explore how they can benefit your business.
Features: The Power of ConvertKit
Customizable opt-in forms
One of the standout features of ConvertKit is its customizable opt-in forms. These forms can be tailored to match the look and feel of your website, making them seamless additions to your existing design. But it's not just about aesthetics; these forms are also highly effective at generating leads.
You can customize the copy and call-to-action button to entice visitors to subscribe to your email list. Plus, you can add multiple form fields and even conditional logic to create a more personalized experience for subscribers.
Tagging and segmenting subscribers
Another powerful feature of ConvertKit is its tagging system, which allows you to organize subscribers based on their interests and behaviors. This makes it easy to make custom audiences and send targeted emails that resonate with specific groups of subscribers. For example, if someone clicks on a link in an email about vegan recipes, you can automatically tag them as interested in plant-based eating.
Then, you can later send them more content related to that topic. Segmenting your audience based on tags also helps with email deliverability since ISPs (Internet Service Providers) are more likely to trust emails sent from sources with engaged audiences.
Automated email sequences
ConvertKit's automated email sequences save time while still maintaining personalization. This feature allows you to create drip campaigns where specific emails get sent out over a set period or triggered by certain actions like joining a list or purchasing something through an affiliate link.
With automation, all new subscribers start at the same point; then they receive different content based on how they interact with your emails or website. This powerful tool not only saves time but also helps enhance engagement by ensuring that each subscriber gets relevant information when they need it most.
Landing pages and sales funnels
ConvertKit offers landing pages and sales funnels, which are essential tools for converting traffic into leads and sales. You can easily create visually appealing landing pages with the drag-and-drop landing page editor that comes with ConvertKit. Sales funnels are a set of pages that guide subscribers through a specific journey, one step at a time.
This feature allows you to create seamless user experiences for your audience by providing them with relevant content or products as they progress through each stage of the funnel. Overall, ConvertKit's features provide users with powerful tools to manage their email marketing campaigns effectively.
The customized opt-in forms give you more control over lead generation while tagging and segmenting subscribers help deliver targeted messages to specific groups. Automated email sequences and sales funnels save you time while still providing a personalized experience for subscribers.
Convertkit Pricing
When it comes to pricing, ConvertKit offers a free plan and a few different plans to choose from. Their pricing model is based on the number of subscribers you have, which means that you only pay for what you use.
The Convertkit pricing is especially beneficial for small businesses or bloggers who may not have a large email list yet. Convertible's most basic plan starts at $29 per subscriber limit month for up to unlimited emails and 1,000 subscribers.
If you have a paid plan with more than 1,000 subscribers, you can expect to pay more each month. However, as your list grows and you need more features like automation and advanced reporting, there are other plans available that offer those additional features.
Different Pricing Plans Available
ConvertKit offers three different pricing plans: Creator plan, Creator Pro plan, and the Enterprise Plan. The Creator Plan starts at $29 per month and includes basic features such as unlimited landing pages and forms with custom branding.
For an additional $10 per month upgrade to the Creator Pro Plan adds advanced automation tools such as visual workflow builder and allows split testing and customized reporting. The Enterprise Plan offers custom pricing based on your business needs that may include additional advanced services like migration support, priority support ticketing system etc.
Comparison with Competitors
Compared to its competitors in the market such as Mailchimp or Aweber which offer starting prices of $9/mo ConvertKit's starting price at $29/mo may seem expensive but it offers a much higher level of personalization in communication with your subscribers with automated emails based on their tags or segments rather than just general email blasts. The tag-based segmentation enables personalized communication with your audience which makes ConvertKit an ideal option for businesses that focus on building relationships rather than just sending bulk emails without any personalization.
Although ConvertKit's starting price point is higher than some other platforms in the market but it also provides features like automation and segmentation that are not found in those lower-priced competitors. If you're looking for a service that offers a higher level of personalization and more advanced features, ConvertKit's free plan may be the right choice for you.
User Interface
Easy to Navigate Dashboard
When it comes to email marketing, having a dashboard that is easy to navigate and understand is essential. ConvertKit has done an excellent job in this regard.
Upon logging in, you are presented with a clear overview of your subscribers, as well as important metrics like open rates and click rates. The dashboard is clean, uncluttered and easy to navigate.
One of the best things about the dashboard is that it allows you to quickly identify your most engaged subscribers or those who haven't opened emails in a while. This can be helpful when creating targeted campaigns or automations based on subscriber behavior.
Intuitive Design for Creating Emails and Forms
The design of ConvertKit's email editor and form builder is intuitive and user-friendly. The editor provides plenty of flexibility for customizing the look and feel of your emails without requiring advanced technical skills or knowledge. The drag-and-drop interface makes it easy to add text, images, buttons, and other elements to your email design.
You can also customize fonts, colors, spacing between elements, etc. right from the editor itself. Similarly, ConvertKit's form builder allows you to create opt-in forms quickly without any design skills needed.
Forms can be embedded into your blog post posts or pages easily by copying the provided HTML code snippet. ConvertKit's user interface design is simple yet effective in terms of functionality and ease-of-use for both newbies and experienced users alike when creating emails or forms – making it an exceptional choice compared to other email marketing tools available on the market today!
Integration
Integrates with popular platforms like Shopify, WordPress, and Zapier
If you're running an online business, chances are you're using a variety of tools to help run it efficiently. One of the biggest benefits of ConvertKit is that it integrates with many popular platforms. This means that you can easily connect your email marketing efforts with other parts of your business without any additional hassle.
One platform that ConvertKit integrates well with is Shopify. With this integration, you can automatically add customers who make a purchase on your Shopify store to your ConvertKit subscriber list.
This feature saves time and streamlines the process of nurturing leads and converting them into loyal customers. Another platform that ConvertKit integrates seamlessly with is WordPress.
The integration makes it easy to add opt-in forms to your website without needing any coding skills. ConvertKit also offers a WordPress plugin that allows you to create customized signup forms back-up forms and landing pages right from your WordPress dashboard.
Zapier is a tool that allows you to automate workflows between different apps and services. With the Zapier integration, you can automate tasks such as adding new email subscribers to specific lists or triggering automated email sequences based on certain actions taken by subscribers.
ConvertKit's integration capabilities are one of its standout features. It saves time and effort by syncing up all the different parts of an online business seamlessly.
Customer Support
When it comes to email marketing tools, one of the most important factors to consider is the level of customer support provided. With a ConvertKit account, you can rest assured that you'll be well taken care of in case you run into any issues or have any questions.
Responsive Customer Support Team
ConvertKit has a highly responsive customer support team that's always ready and willing to help. If you have any issues or concerns, all you need to do is reach out via email or chat, and someone from their team will get back to you as soon as possible. The best part?
Their customer service representatives are knowledgeable and experienced so they can quickly diagnose your problem and provide a solution. Whether it's a technical issue with the platform or a question about pricing for affiliate products, ConvertKit's team is always there to help.
Knowledge Base with Helpful Resources
In addition to their responsive customer support team, the ConvertKit support side also has an extensive knowledge base that includes helpful resources like articles, videos, and tutorials. This can be especially useful if you're new to email marketing or just getting started with ConvertKit.
Their knowledge base covers everything from setting up your account to creating effective email sequences and automations. Plus, their resources are well-organized and easy to navigate so you can quickly find what you're looking for.
Overall, when it comes to customer support, ConvertKit definitely delivers. Their responsive team coupled with an extensive knowledge base make them an excellent choice for anyone looking for exceptional support from their next email marketing software provider.
Pros and Cons
Deciding on an email marketing tool can be a daunting task. While ConvertKit provides several benefits, it also has some limitations to consider. Let's take a closer look at the pros and cons of using ConvertKit.
Advantages of using ConvertKit
One of the biggest advantages of using ConvertKit is the ability to personalize communication with subscribers. By tagging and segmenting subscribers based on their interests, behavior or location, you can tailor your messages to their specific needs.
This leads to higher engagement rates and ultimately, increased conversions. ConvertKit also allows you to automate email sequences, making it easy to send targeted messages broadcast email and at specific intervals without manual intervention.
With this feature, you can create a series of emails that educate or nurture your subscribers until they are ready to make a purchase or take another desired action. Detailed analytics for tracking performance is another advantage of using ConvertKit.
You can easily track open rates, click-through rates, conversion rates and other metrics that help you optimize your campaigns for maximum impact. ConvertKit's user-friendly interface makes it easy for beginners to get started with email marketing even if they have no prior experience in coding or design.
Disadvantages of using ConvertKit
On the downside, one limitation of ConvertKit is its limited design options for emails. While the platform focuses on functionality over aesthetics, this may not be ideal if you're looking for highly customized designs that reflect your brand identity. Another potential disadvantage is the high pricing compared to other other email marketing platforms and tools available in the market.
While ConvertKit offers a full free trial plan with limited features, its paid plans may not be suitable for small businesses or startups with tight budgets. Despite these limitations, however, many users still prefer Convertkit due to its robust features and ease-of-use.
ConvertKit offers several advantages for businesses looking to improve their email marketing campaigns. With its personalized communication, automated sequences, detailed analytics and user-friendly interface, it's a great tool for beginners and experts alike.
While it may have some limitations in terms of design options and pricing, its functionality makes it a worthwhile investment for businesses that want to reach their target audience effectively. Ultimately, the decision of whether or not to use ConvertKit depends on your unique business needs and email marketing goals.
Final thoughts on ConvertKit as an email marketing tool
Is ConvertKit the right choice for you?
After examining all the features, pricing plans, user interface, integrations, and customer support of ConvertKit, it's clear that this email marketing tool is best suited for small to medium-sized businesses that prioritize personalized communication with their subscribers. The ability to tag and segment subscribers and create automated email sequences is a game-changer for email marketers and anyone looking to build long-lasting relationships with their audience.
However, if you're looking for more design options when it comes to emails or don't have a need for extensive analytics tracking, then the ConvertKit free plan may not be the best fit for you. Additionally, if you're on a tight budget and can't afford the higher pricing plans of ConvertKit, then there are other email marketing tools out there that offer similar features at a lower price point.
The future of ConvertKit
Despite some limitations in design options and pricing plans compared to its competitors, ConvertKit has established itself as a go-to email marketing tool for creators who value personalized communication with their subscribers. With its recent acquisition by Seva (formerly known as ConvertFox), there's no doubt that we can expect new advancements digital products from the company in the near future.
One of these anticipated advancements is an improved visual editor that would give users more flexibility in designing emails. Another exciting development is Seva's focus on developing artificial intelligence-driven features that would help automate even more aspects of email marketing campaigns.
Final verdict
Overall, it's clear that ConvertKit offers an excellent set of features tailored towards creators who value intimate communication with their audience. Its user-friendly interface makes it easy to get started while still offering advanced automation capabilities like tagging and segmenting subscribers.
While its higher pricing plans may not be feasible for everyone on a tight budget or looking for more design flexibility in their emails, ConvertKit remains a top choice for anyone looking to build stronger connections with their subscribers. With the backing of Seva, it's clear that ConvertKit will continue to innovate and push the boundaries of email marketing in the years to come.Optimized Content