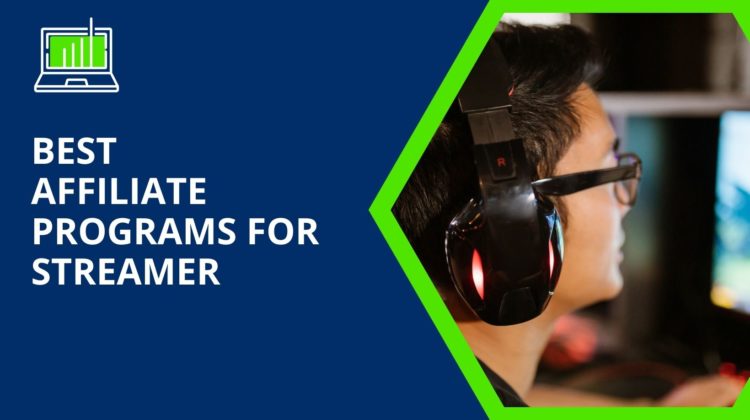 The gaming industry is one of the fastest-growing sectors in the US, especially the streaming market is growing rapidly to over 2.2 million gamers that stream their video games gameplay on the streaming platform Twitch daily.
Thus it is no wonder that there are special affiliate programs for streamers.
One major development has been affiliate programs that created an easy way for you to earn money by promoting and selling products online. An affiliate marketing program allows you to make money from digital games.
With affiliate marketing, you make money when a user clicks on referral links through a commission rate from the company that sells the product.
Many websites exist now, that allows gamers and content creators to make money while streaming through affiliate links, but which ones should you trust?
This blog post will review some of the top 11 affiliate programs for streamers that are deserving of your consideration.
11 Best Affiliate Programs for Streamers
Twitch Affiliate Program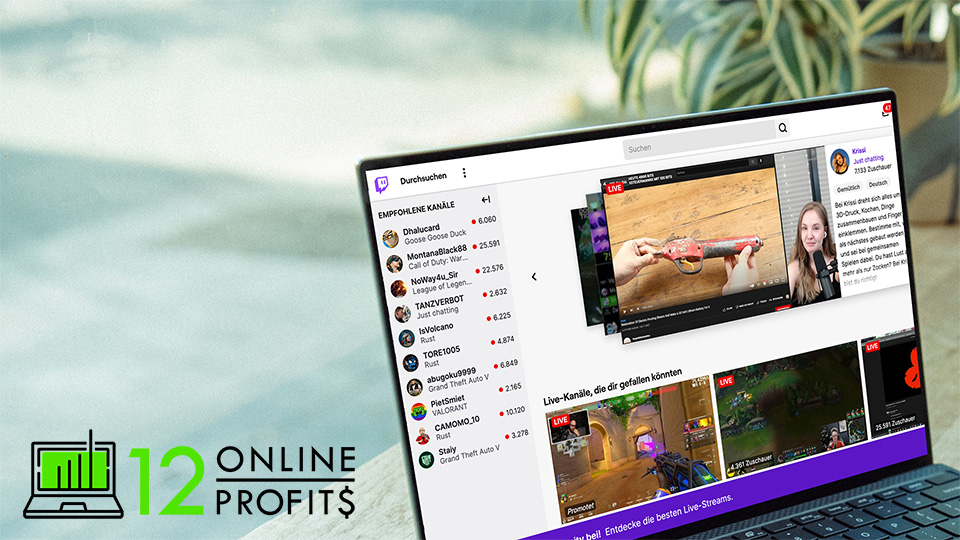 Twitch is an online community that offers a platform to stream streaming video games and related content. They offer a great affiliate program that will help you make money from your Twitch channel by promoting video games, computer accessories, videos, and other related products.
The Twitch affiliate program also offers free tools and materials to help Twitch streamers or Twitch partners, as they like to call their affiliate members, promote products on their channel or their websites. This is one of the best affiliate programs for promoting video games with a large product offering, flexible commission structures, and real-time tracking.
Through Twitch's affiliate program qualified streamers can earn up to 5% on every game that is sold on the Twitch platform when the user has clicked on the referral link.
To be able to join the Twitch partner program you have to meet 4 requirements:
Stream for 8 hours within the last 30 days
Stream at least on 7 days in the last 30 days
Average of 3 viewers per stream
Reach 50 followers
When you have reached these requirements, they are checked off and once all 4 are reached a link is displayed on your Achievement page and you will be notified by an e-mail from Twitch.
Commission; varies from product and game
Cookie: ??
Logitech Affiliate Program.
The Logitech Affiliate Program is one of the top affiliate programs for gamers. You get to make money by promoting gaming keyboards, mice, keyboards, headsets and other computer accessories. The website offers a wide variety of options to help you earn money. The Logitech affiliate program offers multiple revenue streams and online tools to help you stay on track with the orders that come from your website. The program also offers affiliate-specific content, real-time tracking, and flexible commission structures. All orders that are placed from a website with a referral link are tracked by the logitech affiliate program. This helps you stay on top of your earnings, so you can keep your video game websites updated efficiently.
Overall, the Logitech Affiliate Program is a top program for affiliate marketers to use. The commission rates are between 4-10% of the product value depending on the product category.
Commission: 4- 10%
Cookie: 30 days
Razer Affiliate Program
Razer is based known for its hardware products and accessories for gamers and modders. The products offer benefits for hardcore gamers like high-resolution gaming mice, graphics cards with high-end cooling, and gaming chairs that are more comfortable than your usual chair.
They also offer uncommon products and little know products like energy drinks for gamers.
Commission: – 10%
Cookie: 30 days
Alienware Gaming Affiliate Program
Similar to Razer Alienware is also a hardware company that specializes in hardware for gamers. However, the company does not produce peripherals for gamers but rather complete PCs with special hardware for gamers with unique designs. In addition, they were the first company to develop laptops with high-end graphic cards and more power for gaming. Today Alienware is owned by Dell, this means that you actually join Dell's affiliate program and become an affiliate partner for Dell, in order to promote Alienware hardware to your follower.
In contrast to Razer, the affiliate commissions are lower, however as the consumer buys a whole computer and not only a mouse, the order value is higher which is good news. In addition, the cookie which is set when the user clicks on your unique link is valid for 90 days.
Commission: 3%
Cookie: 90 days
NVIDIA Affiliate Program
Everybody who is into gaming knows NVIDIA as they are the leading developer and manufacturer of high-quality GPUs. They offer a great opportunity to earn money from the fast-growing gaming industry. NVIDIA offers an affiliate program that is built for gamers. You get to earn money by promoting and recommending NVIDIA products.
Commission: 2-5%
Cookie: 45 days
Zygor Guides Affiliate Program
Zygor Guides Affiliate Program is a great affiliate program for gamers that love to stream World of Warcraft gameplay. Zygor Guides offer guides for playing World of Warcraft so that you can gain more experience and level up fast or earn more gold within the game. The Zygor guides affiliate program has two incredible features, they offer up to 50% commissions for your referrals and in addition, they also provide you with the option to earn recurring revenue
Commission: 50%
Cookie: 60 days
Wargaming.com Affiliate Program
Wargming.com is the developer of a couple of "free to play" games that are heavily promoted via advertising in recent years. There is a high chance that you have seen an ad while watching videos on a youtube channel. Games like "World of Tanks", "World of Warships", World of Warplanes", "Pagan Online", "Masters of Orion" or "Gods & Glory" are published by Wargaming.com. although the games are free to play, you can pay money to get a premium experience and get a better or faster chance to have success in the games and earn more trophies.
When a user signed up for the game through your link for a free subscription and then later buys a premium you get an affiliate commission. The commission rates are not really high and vary from country to country but the program can be a good additional income stream for streamers or gaming websites.
Commission: 1 USD- 7 USD
Cookie: ???
Nerd or Die Affiliate Program
If you are watching gaming streams regularly on YouTube or Twitch or Facebook you have seen a product from Nerd or Die for sure. The company offers designs, overlays, alerts, and many more graphical assets for your stream.
In addition, they also offer guides, tutorials, and other learning material if you are at the beginning of your gaming streaming career.
As an affiliate, you start with a 10% commission but the commission can grow to 30% depending on your performance within the program.
Commission: 10% – 30%
Cookie: ??
Microsoft Affiliate Program
Microsoft one of the most known brands in the computer and gaming industry also has an affiliate program. Because of the XBOX and Windows games, Microsoft is actually also a natural fit for gaming streamers. There is also the additional advantage that Microsoft is a well-known and trusted brand so a lot of users will trust a link to the Microsoft store, browse the store, and will buy a product.
There are two types of referral links an affiliate partner for Microsoft can use. One can either link to a specific product that is sold in the Windows or Microsoft store, or you can also just link into the store without a specific product. The commission rates for the Microsoft program vary from product category to product category. The highest rates are available for games and movies, whereas hardware products like the Surface Laptop have lower rates.
Commission: up to 10%
Cookie: ??
Epic Games Affiliate Program
When you have played a game on your computer or your gaming console you have certainly heart of Epic games if not played one of their games. Maybe you are even streaming a gameplay of an Epic game. The best-known games are Fortnite, Unreal and Game of War.
Thus it is only natural that also Epic has its own affiliate program. Through their store you can not only buy their own games but also third-party developers are selling their games through the Epic store – making the store an even better choice for you as an affiliate but also for users.
You will earn a commission of 5% for every game bought in the store through your link. There can also be an additional upside for you, if the person who bought the game through your referral link buys in-game, as you will also get a commission on this kind of revenue.
Commission: 5%
Cookie: 14 days
Sennheiser Affiliate Program
Sennheiser is best known for its high-quality headphones. This brand image has also made its way into the streamer and gamer scene.
Sennheiser, one of the leading manufacturers of headphones and microphones, which are also by musicians and Tv studios, also offers high-end headphones that have a microphone included – these products are ideally suited for streaming.
Although the commission rate is only 6%, your earnings can be very substantial as Sennheiser products can cost a couple of hundred dollars.
Commission: 6%
Cookie: ??
Conclusion
As you can see from the list there are different options and product categories that offer affiliate marketing programs. Some programs are very specialized to certain niches like Twitch streamers or streamers that play a certain game.
However, there are also still a lot of affiliate programs that are very general and every streamer can join the program and given the right audience earn money through the programs. Most of the affiliate partners are well known brands with a high level of trust.
If you want to make money with as an streamer with affiliate marketing and do not want to start your own website, I have created a list of options how to get start. Click here to read ways to make money from affiliate marketing without a website.
Frequently asked Questions
What is the highest paying affiliate program?
This question is not easily answered as in most cases the commission depends on the amount the customer has paid the company. A low commission for a high ticket product can have the highest payout. Some programs also offer recurring commissions thus the first commission might be low but over the following month the amount adds up.
Can small streamers get sponsors?
Also, small streamers can get paid sponsorships, however, these streamers have to be realistic about the amount of money they receive if they only have a small viewership.
Is Twitch affiliate in 2022 worth it?
If you are streaming on Twitch then the Twitch affiliate program is definitely worth it as it offers some exclusive benefits. Only Twitch affiliates get emotes, channel points, and subs on your channel. However, you should not join the program, if you want to stream also on other platforms.