If You're Looking for a Tool to Help You Create Training Videos or Marketing Videos through artificial intelligence, Then You May Want to Check Out Synthesia IO.
In this Synthesia IO review, I will take a look at how easy it is to use this AI video tool and whether or not the results are natural looking and sounding videos. I will also discuss the additional feature of being able to upload your own avatar for an additional fee and not only use ai avatars.
So, if you're considering using Synthesia IO, read on to see if it's worth trying out.
Table of Contents
What Is Synthesia IO?
If you're like most people, you probably think of videos with talking heads as being dry and boring. You might even avoid watching them altogether.
But what if there was a way to make these types of videos more interesting and engaging?
Synthesia IO is a tool that does just that. Synthesia IO is an AI tool that makes it easy to create talking head videos.
The tool allows you to create professional videos without showing your own face or without hiring expensive freelancers.
Synthesia IO creates videos based on the text you enter into the system or presentations you provide the system. In another step, you can select an avatar from a huge collection of different types.
The avatar will be your face and present your content to your viewers e.g. on social media.
The natural look and sound of the video make it worth trying out. Below you find a short demo video I create with the tool: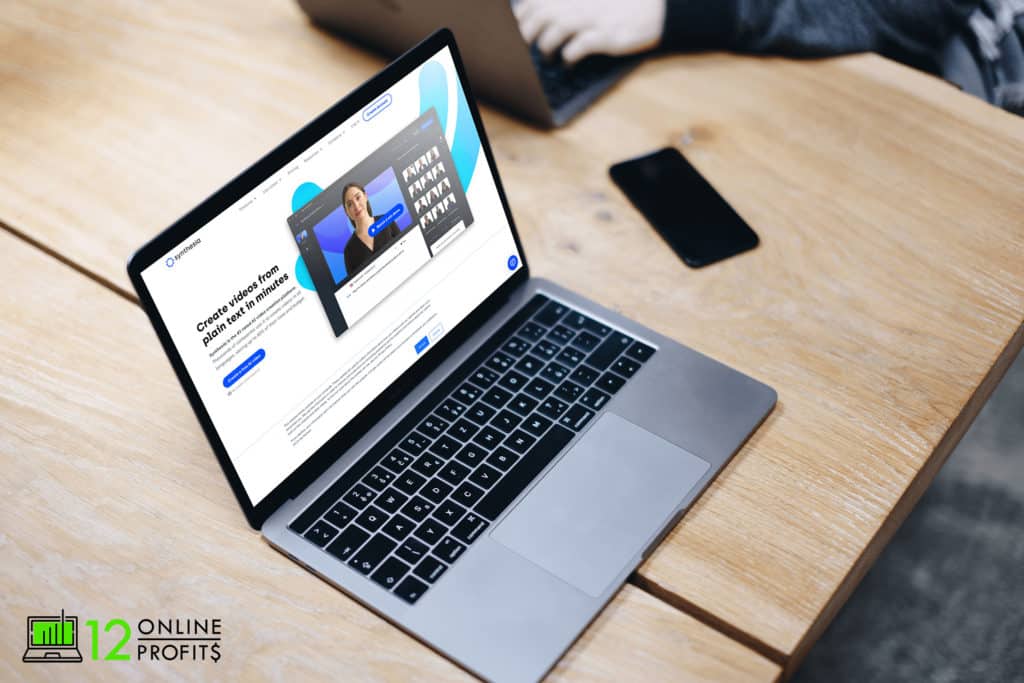 How Easy Is It to Create Talking Head Videos Through This AI Tool?
If you're looking for a quick and easy way to create talking head videos, Synthesia IO is definitely worth checking out as a video creation tool. Synthesia IO is a AI video creation tool that is able to create videos for training and marketing.
This AI tool makes it super simple to create realistic-looking talking head videos in just a few minutes, without any prior video editing experience required.
You can create your professional-looking video in a couple of easy and simple steps.
The whole video creation process is easy and quick.
Thus marketing videos are done in an afternoon and not in a week. Also training. videos are done in such a time frame. This allows you to create videos for more situations as videos in minutes are done.
Firstly, choose your video template
To start the process of creating your AI video you have to select a video template that provides the frame for your video. You can choose from a variety of topics for your video from tutorial videos to sales pitches.
Secondly, provide and edit your video script
In this step, you have to provide Syntehsia IO with the text that the AI avatar should speak in your video. As Synthesia supports over 120 languages you do not have to stick to English for your video script.
The AI engine that converts your written text into speech, is able to create natural sounding professional audio files.
Your video script is also added as closed captions to your video.
Thirdly, choose your avatar
In this step you can select the avatar that should be present in your created video. You can select from over 85 avatars both male and female from young people to older people.
If you subscribe to the Corporate tier you can also purchase your exclusive avatar from Synthesia or let create Synthesia create your own avatar for an additional fee.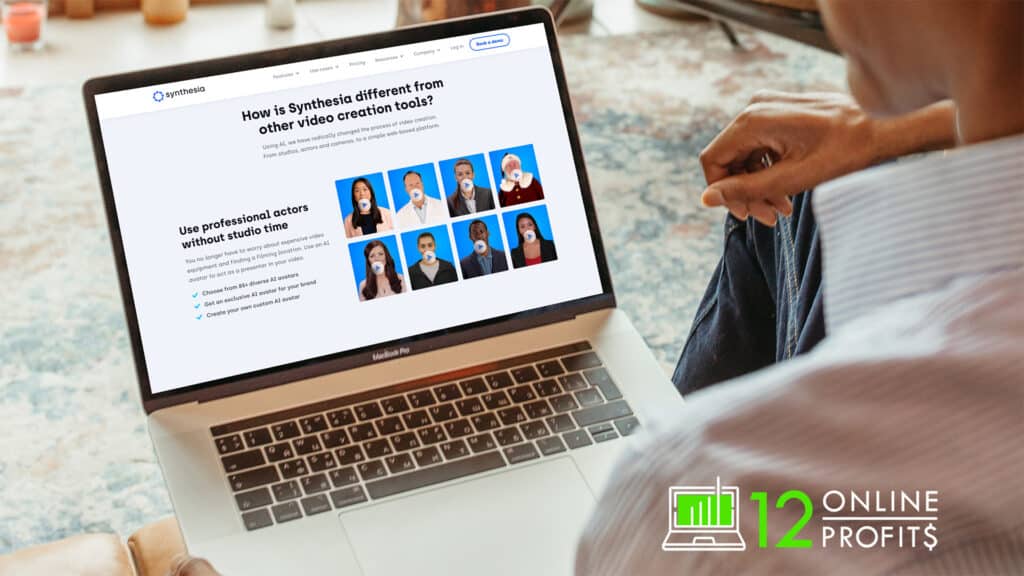 Fourthly, publish your video
When the video is finished rendering you can easily share the video, embed is directly in your website or download it as an MP4 file and integrate it into your systems or material.
Fifthly, update your video
This part is actually the most convenient part of an AI created video. You can easily update and change the video. You only have to edit the script or exchange the background image or Powerpoint slides. The AI renders your changed video minutes and you are done.
No need to book the same actor, get a camera man and shot the video again. Then the material has to be edited and so on. This process can take weeks. With Synthesia it only takes minutes.
Summary of the creation process
Creating talking head videos through Synthesia IO is quick, easy and requires no prior video editing experience whatsoever – perfect for busy entrepreneurs who want to create engaging content without spending hours in front of a camera or learning complicated software tools Give it a try today and see for yourself how simple and effective this AI tool can be!
Key Takeaway: Synthesia IO is a quick and easy way to create realistic-looking talking head videos without any prior video editing experience required.
Who is Synthesia.IO made for
Businesses who are on the lookout for a straightforward and cost-effective way to create video content should definitely try out Synthesia IO.
It is the go-to tool for those who want professional looking videos without hiring a specialist. With Synthesia IO, creating marketing or product demo videos, corporate presentations, or even Facebook ads to sell products online is made effortless.
Furthermore, one doesn't need any technical know-how to create stunning Instagram Stories, YouTube videos and other promotional materials quickly.
In short, Synthesia IO makes producing creative yet high-quality video content easier than ever!
Bloggers
Videos are a good way for bloggers to keep readers longer on the website and provide a different kind of media in addition to text.
Synthesia IO allows a new blogger to create talking head videos without a lot of work and video know-how.
With its advanced AI Synthesia creates high quality videos that attracts viewers and keeps reader longer on the page.
YouTubers
For those venturing into the world of YouTube, creating unique and professional-looking videos is now a breeze with Synthesia IO.
With its AI video creator, YouTubers can use animations, background music, text and images to craft stunning videos that demand attention.
Synthesia IO makes sure your channel stands out from the crowd!
Online Stores
Synthesia IO is the perfect tool for those setting up an ecommerce business and running an online store.
With its AI video creator, one can quickly craft appealing promotional videos that successfully highlight their products in all their glory.
Synthesia IO ensures that entrepreneurs can create short and engrossing videos that quickly capture the attention of potential customers!
Freelancers
Working remotely as a freelancer can get tough, especially when it comes to showcasing one's work and attracting clients.
Synthesia IO makes this process seem effortless – its AI video creator allows professionals to quickly create eye-catching, superior quality videos that will surely make an impression on potential employers and customers.
The Natural Look and Sound of the Video
We all know that one of the most important elements of a successful video is its audio quality. If your video sounds like it was recorded in a tin can, chances are people aren't going to watch it for very long.
The same goes for the visuals; if your video looks like it was filmed with a potato, again, you're not going to have many viewers. This is where Synthesia IO comes in.
This AI tool makes it incredibly easy to create realistic-looking videos, and the results are often indistinguishable from real footage.
Whether you're creating an explainer video or just want to add some talking head shots to your website, Synthesia IO is definitely worth trying out.
This AI tool makes it incredibly easy to create realistic-looking videos. Try it out for yourself and see the amazing results!Click To Tweet
Synthesia IO Features
Synthesia Language 120+

Synthesia not only produces stunning videos in English but in over 120 languages and accents. This makes the solution a no-brainer for international companies as they can create their videos in the native languages of their customers or employees.
Synthesia Avatars 85+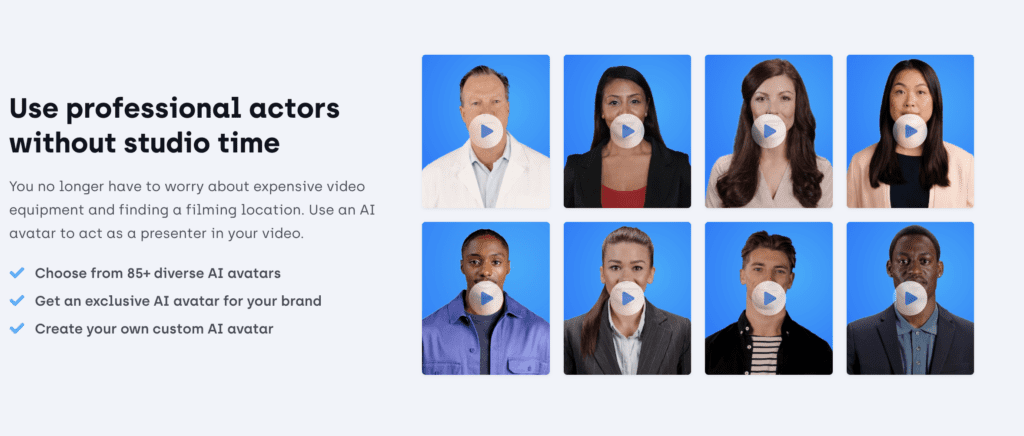 You can select an avatar from the huge selection of 85 available to match your target audience the best. If you want to be unique or have a wellknown marketing or communication figure on staff you can also create your own custom avatar. Your custom avatar is the ai presenter that leads the viewer through the video.
Video Templates 55+

When creating your video, you do not have to start from scratch. Synthesia has already created over 55 templates to choose from, so that you can directly start with your video script.
Full video editing studio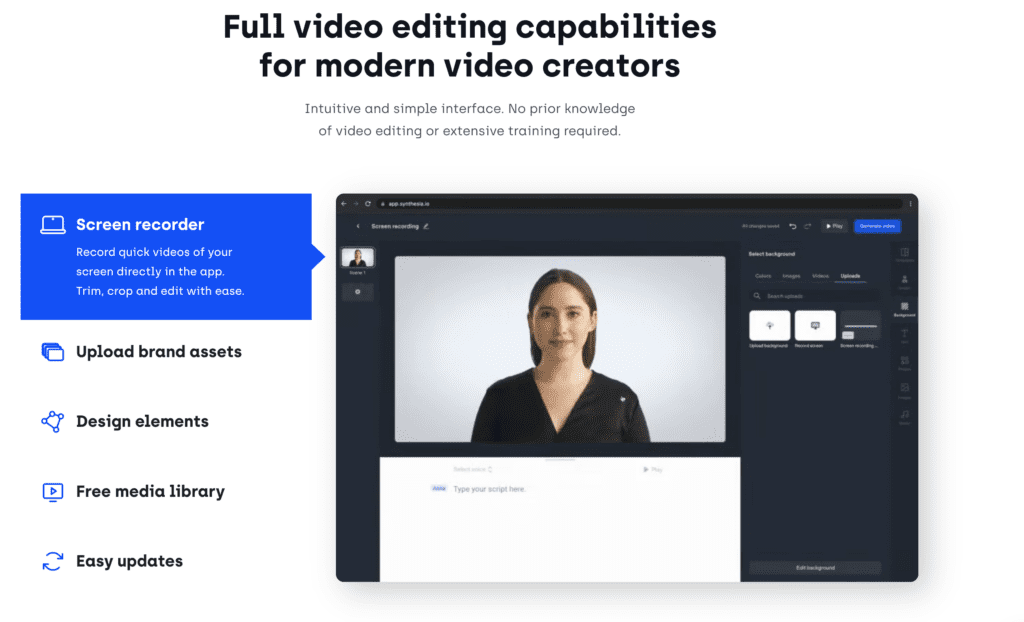 Once your video is finished, you can use the build in full video editor to create professional videos. The video editor is easy to use, so that you do not need to have video editing skills.
Customer Support
Synthesia.io offers a lot of helpful content to help you getting started with the platform. The video maker has an extensive library of tutorials and help documentation. If you are really stuck, you can contact the customer support
You Can Also Create Your Own Avatar For An Additional Prize
If you're looking to create a talking head video with an extra personal touch, Synthesia IO allows you to create your own avatar for an additional fee. This gives your video a more natural look and sound, as well as making it unique to you. To create your own AI avatar you have to contact customer support, provide them with the necessary data and the company will create professional looking avatar of yourself which you can use in your own AI video.
Synthesia IO Pricing
Synthesia offers its AI services as Synthesia Studio. The Studio is an AI video platform with a subscription. Currently they offer two tiers. Personal for a low price of 30 USD per month and corporate.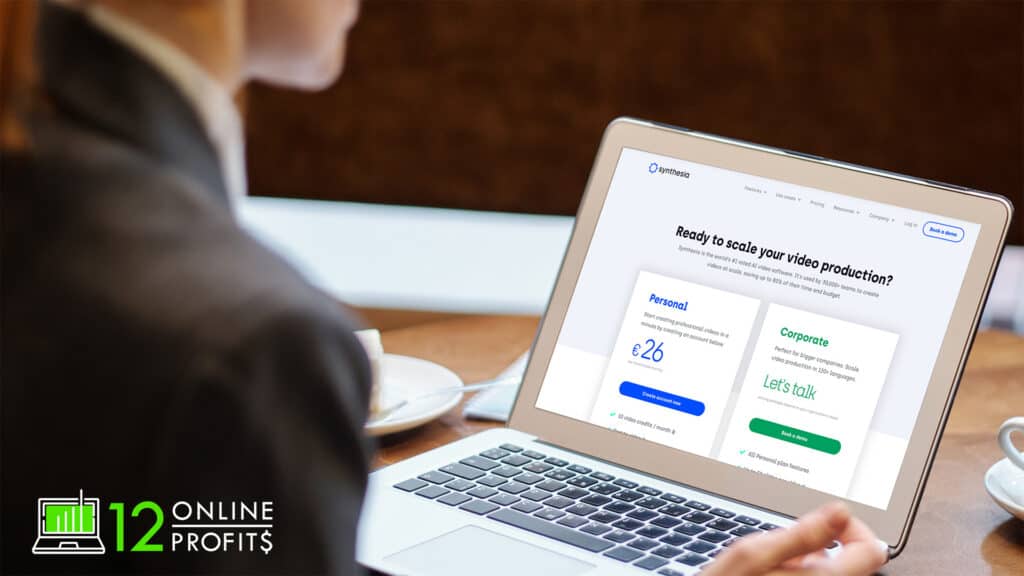 For only 30 USD you get 10 video credits. 1 video credit allows you to create 1 minute of video.
Even with the entry tier you get access to the full suite of over 120 languages, over 65 built-in avatar.
In addition you can select from over 55 templates for your own video.
FAQs in Relation to Synthesia IO Review
Is Synthesia IO good?
Yes, Synthesia IO is a good product. The advanced AI of Synthesia produces high quality and natural looking and sounding talking head videos based on the text that you provide the tool. The created video you can then upload to YouTube or integrate it into your own website.
How does synthesia IO work?
You have to provide Synthesia with the text the digital avatar should say in the video. Then you have to select the Avatar or depending on your tier of the service you can upload your own. The AI of Synthesia then creates a talking head video that sounds and looks very natural.
Is synthesia free to use?
No, Synthesia is free to use. The company only offers a demo video for you to create. However, the entry level tier costs only 30 USD per month.
What does synthesia cost?
The cost of Synthesia varies depending on the plan that you choose. The personal plan costs 30 USD and allows you to create a total of 10 video minutes per month. The next plan is called Corporate and the price will be set in a sales call depending on your needs.
Is Synthesia IO Worth Trying
Yes, Synthesia IO is worth trying out. The entry barrier is very low and the service offers a plan for only 30 USD per month.
What is Synthesia IO?
Synthesis IO is a tool that allows users to create talking head videos using AI technology. This means that the videos will look and sound natural, without any awkwardness often associated with automated video creation tools.
Is Synthesis IO worth your time?
We think that this tool is definitely worth trying out, especially if you're looking to save time and money on creating talking head videos.
The natural-looking and sounding videos are sure to impress, and we think it's a great option for those looking for an easy way to create talking head videos.
How can Synthesis IO benefit you?
If you're looking to create talking head videos quickly and easily, then this tool is definitely for you. The AI technology makes it super simple to create natural-looking and sounding videos.
This can save you a lot of time and effort, as well as money if you were to hire someone to do it for you.
Conclusion
Overall, I find that Synthesia IO is a great tool for anyone looking to create talking head videos. The AI technology results in natural-looking, sounding videos and allows you to create professional videos, and the ability to upload your own avatar is an added bonus. If you are stuck Synthesia as a very responsive and helpful customer support.
If you're interested in trying out this tool, we say go for it!