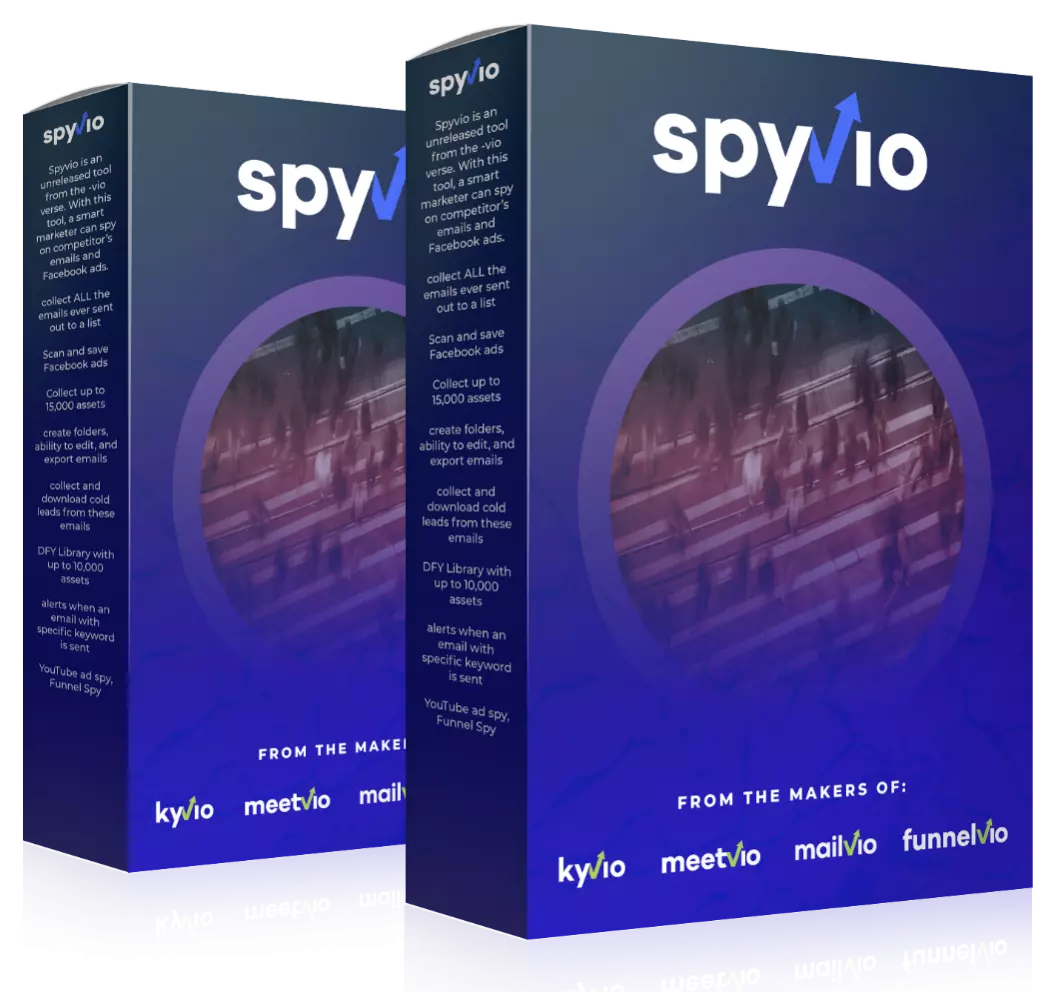 DISCLAIMER: For this Spyvio review I have access to the product and can describe in detail what the software can do and what are its shortcomings. I will show you screenshots of the members area. This site contains affiliate links to products. I may receive a commission for purchases made through these links.
What is Spyvio?
In this Spyvio review I will answer most of your questions about this new software. Spyvio is a software as a service allows you to spy on successful e-mails, ads and online funnels, so that you do not have to create everything from scratch but get inspirations and insights from successful internet marketers and campaigns. This way you have a basis and can start your marketing faster and more successful.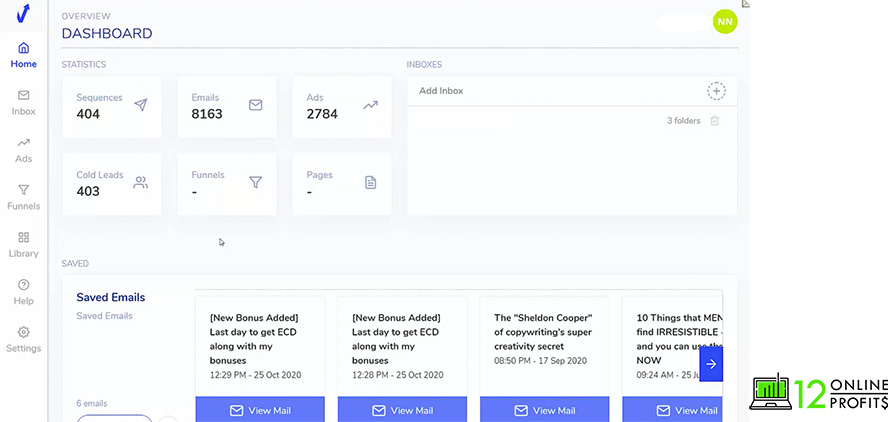 Russell Brunson calls it "funnel hacking."
The advantage of Spyvio is that Neil Napier and his Simon Warner have preloaded Spyvio with some of the best ads, online funnels and e-mail sequences that are in the market right now. In the future however, you can save and add your own material and thus get a huge collection of marketing knowledge. This way there is no outdated data in the system. In addition you can upgrade to Spyvio Unlimited (more on the upsells later) and your account comes preloaded with even more ads.
In order to be able to save all these e-mails from top marketers, you can sign-up to these e-mail lists directly from within Spyvio with a new stealth e-mail address, so that all emails are in your Spyvio account and to not clutter your main e-mail account.
Spyvio also automatically groups these emails into sequences, so that you can follow how the marketer is sending the different emails in sequence and build your e-mail automation based on these proven and tested funnels.
Why is Spyvio so helpful?
I myself have captured e-mails, landing pages and funnels in the past, but I did not have a system thus they are cluttert in different places, accounts, documents. I have no way to find them all again, there is no system and no search functionality. Furthermore, the e-mails from this lists, that I signed up to get a feel how others are doing it, are cluttering up my main e-mail account and I have to spent valuable time to archive them, sort them, so that I do not loose the overview in my email account.
FIND: Research, collect and save prooven ads, emails and funnels of your competitors and industry leading experts
PICK: Get directly access to 100 successful business that Spyvio has selected and already preloaded in to your account
SAVE: Save time and money by using prooven campaigns as your basis.
CREATE: Copy winning campaigns without spending money on testing and creation
PROFIT: Customize these campaigns so that perfectly fit your products and customers.
How does Spyvio optimize your online business in 2021
Manual way
Create & sell your product or service from scratch
RESEARCH: Do market research and competitor analysis
IDENTIFY: You have to do market and user research, analyse your data and create user personas.
TRACK: Spend some time organizing your project so that you and your team know exactly what is needed to launch on time, with all the components that you've committed to.
PLAN: You must create the visual layout and add interaction, and then share it with external stakeholders or test run it with user testers to improve positioning before any development begins.
TEST: Run beta-tests to ensure launch date readiness, evaluate the customer experience, confirms MVP status and run competitive analysis
PROMOTE: Run ads on Google, Facebook. Write blogs, participate in events, leverage influencers…
ANALYSE: Hire experts to track and analyze data to measure conversions.
PROFIT: Pay off designers, coders, support staff and other expenses including sales & marketing. Calculate your profits after months (or may be years) of effort.
Shortcut with Spyvio
Use a proven-to-convert campaign from a successful business and customize it.
RESEARCH: You get 2,000+ proven-to-convert pages (funnels), ads & emails. The software helps you find more on-demand, in any niche of your choice!
IDENTIFY: No need to do anything. This has been done already.
TRACK: Already done for you in Spyvio!
PLAN: Already done for you in Spyvio!
TEST: Already done for you in Spyvio!
PROMOTE: Already done for you in Spyvio!
ANALYSE: Already done for you in Spyvio!
PROFIT: Already done for you in Spyvio! You do not need so much profit, as you never spend so much money to create your funnel and you have a higher success rate as your funnel is based on a proven one.
As you can see with Spyvio you can turbocharge your campaign creation a lot as you can get inspirations from the most successful campaigns of the last year and you can also add your own campaigns that you find most inspiring, most successful or simply liked a lot
What is all included in your Spyvio Account?
1,000 World's most profitable ads, emails and funnels in a unified database
Top 100 businesses online reverse-engineered
Collect up to 15,000 assets (emails, ads, funnels)
Rapid 'detection & monitoring' technology
Works with Facebook, Instagram, Messenger & Google Ads
Collect & store emails from any newsletter
Stealth-sign up without using your personal email address
Collect & download cold leads from incoming emails
Use 1-click search to reverse engineer any funnel
Setup alerts to get instant email notifications
Separate emails, funnels and ads using simple folder structure
Who should buy and use Spyvio?
Marketers at all levels
Facebook & Google Ad Experts
Funnel Experts
Email Marketing Experts
Affiliate Marketers
Agency Owners
Who build Spyvio, can you trust them?
Spyvio was created by Neil Napier and his partners Simon Warner & Dragan Plushkovski. Neil started with copy-writing and from there his obsession with online marketing grew from a simple hobby into a full blown million dollar company.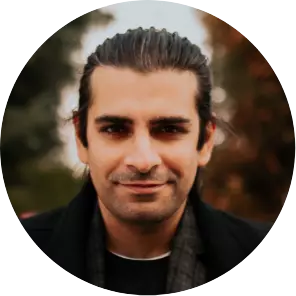 Neil and his team generated over $750,000 in less than a year with their own products such as: Content Gorilla, Funnelvio, Meetvio, etc. He is a proven product creator with a long list of products. He and his team is also used to create SAAS products like Funnelvio, Meetvio or Mailvio. This means they have resources and processes in place to handle your support requests.
How to use it?
With Spyvio you can set up a new campaign that is based on an existing successful campaign in three easy steps:
Find and pick a winning campaign, from the preloaded campaigns in Spyvio or from your own saved assets
Copy and customize the funnel, the ad and the email
Start your campaign and use it for instant profits
Use Spyvio in addition for these tasks:
Collect & store emails from any newsletter
Collect ad as you browse Facebook & Google through the browser extension
Replicate your competitor'S campaign with your logo and offer
Collect and download cold leads from incoming emails
Use 1-click search to revers engineer any funnel
Sell high-converting emails, ads and funnels and get paid handsomely

Price overview in this Spyvio Review:

Front-End – Spyvio ($37)
Unique App Gives You 1-Click (UNLIMITED) Insider Access To 2,000 Ads, Funnels & Emails From Top Businesses Worth $1 Billion
OTO 1 — Spyvio Unlimited ($17/mo or $97/year)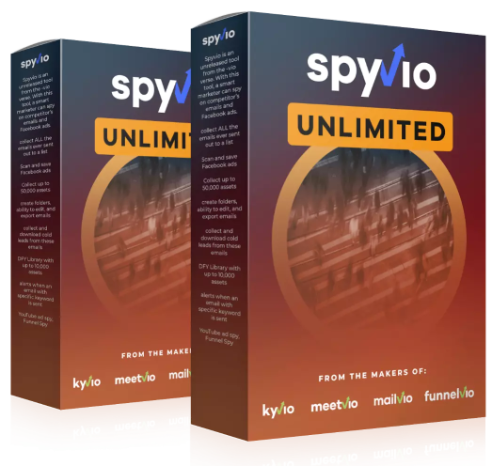 collect unlimited emails
collect unlimited ads
collect unlimited funnels
BONUS: 25,000 assets DFY library
BONUS: Early access to new features
BONUS: Grandfathered — no other payments
Priority support
OTO 2 — Spyvio DFY & Funnelvio – $197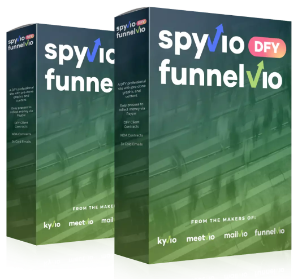 Funnels and landing pages from Top 10 business duplicated
All pages re-designed and re-written making them unique and commercially usable
1-click import all the funnels
Sample funnels: Tony Robbins Challenge Funnel (which did $25M+), Socially Inclined, Eban Pagan Info-Product Funnel, and more!
Bonus access to Funnelvio (lifetime account)
OTO 3 — Spyvio Agency ($297)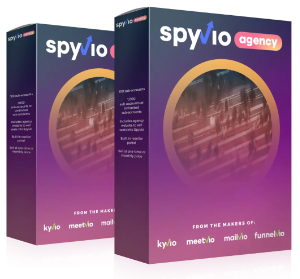 100 sub-account license: Each account can have 10,000 assets collected. Plus folders, ability to edit and export emails.
Unlimited Sub-Account License: Each account can have 50,000 assets collected (emails, ads). Plus folders, ability to edit, export emails, ability to collect and download cold leads, alerts.
Includes agency website to sell seats into Spyvio
Built in reseller portal
Sell at one-time or monthly price
OTO 4 — Overnight List Success ($47)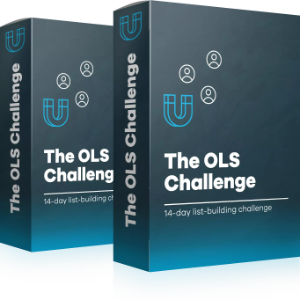 The OLS Challange is a 14-day Live Challange designed to help you build a SEED list to supercharge your product launch and increase your chances of having a 6-figure product launch
Get it now and turbo charge your campaign creation
How does Spyvio look like from within:
This is the dashboard of your Spyvio Account. It provides you access to all the different areas of your tool. with a glance you see the amount of ads, emails and funnels you have already saved.
You also see directly the new e-mails in your Spyvio account, from the e-mail sequences you have subscribed to.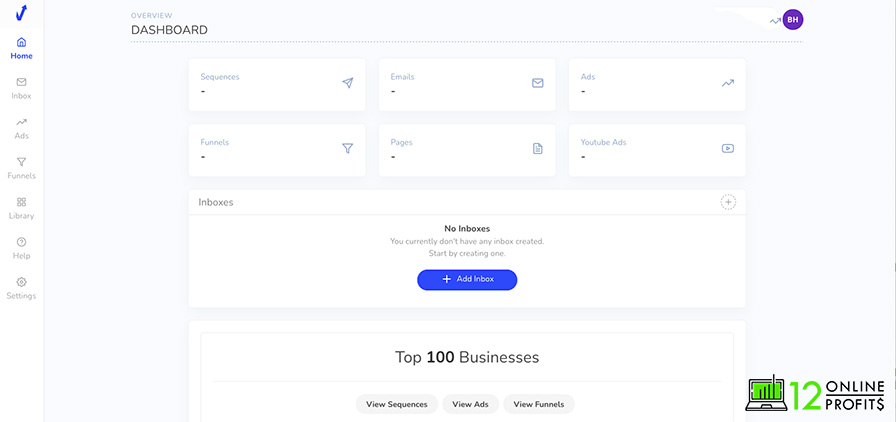 This is one of the many preloaded funnels that come with you Spyvio account. On the left side you see the different pages and one the right side you see the full page loaded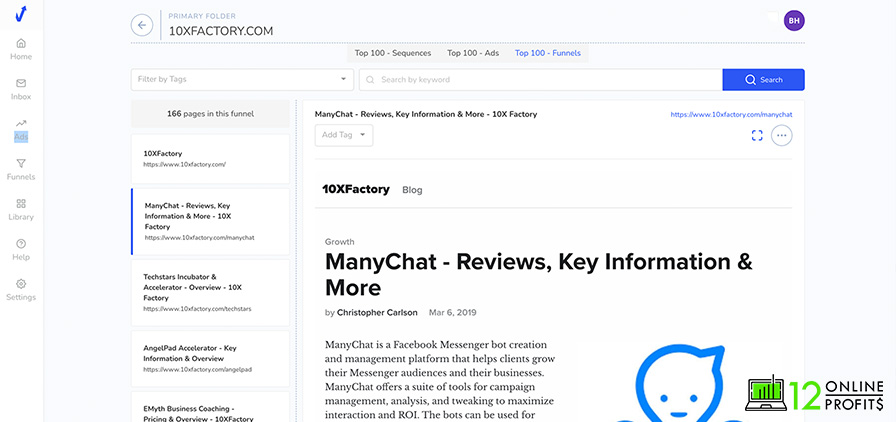 The email sequences are automatically grouped by the sender. This allows you to quickly browse through an e-mail sequence and see how this proven sequence is build and how the tension is build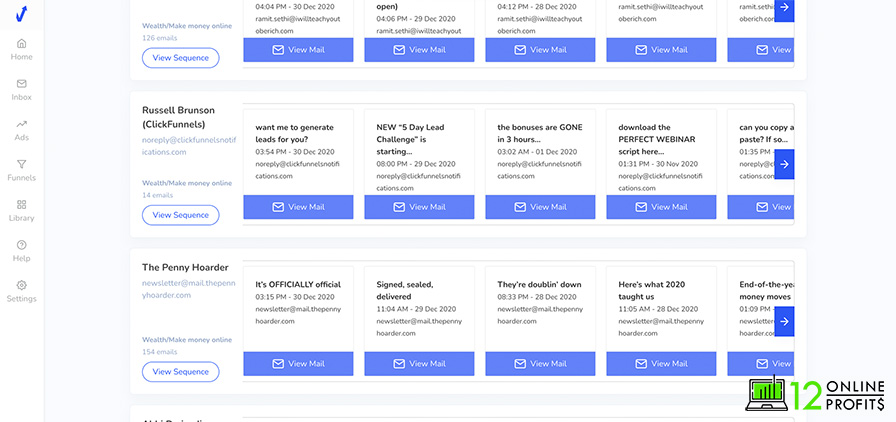 Each section of the product has a search functionality build in, so that you can quickly find the ad, funnel or email you are looking for. Below you see the gallery view of the preloaded ads. The ads are screenshots of the acual ad in Facebook or Google, when adding the ad, you have the option to add the text manually because of terms and services from Facebook.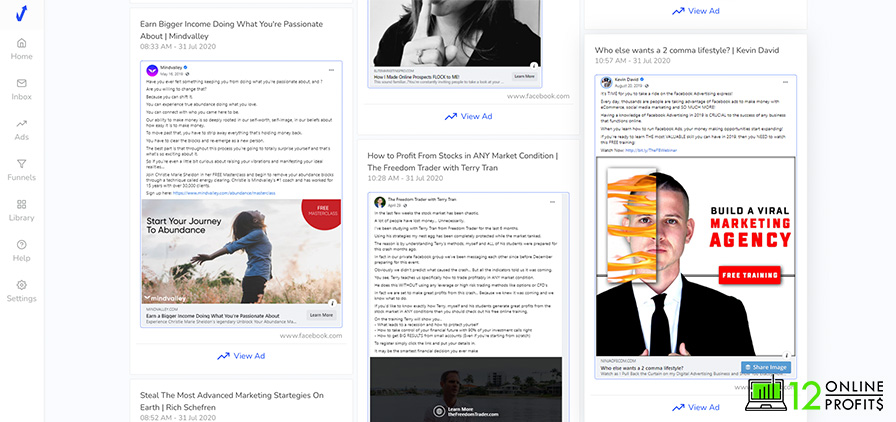 Get it now and turbo charge your campaign creation
Demo Video of the creator of Spyvio for Spyvio Review
Conclusion of this Spyvio Review
I can highly recommend Spyvio and I have bought a license myself to finally store all the assets that I use for my inspiration in an organised and searchable tool. Spyvio allows you to easily save ads from the most important ad networks via a simple Google Chrome extension. In addition it allowed my to declutter my private e-mail account by unsubscribing from a lot of email lists and resubscribing from within Spyvio. Now my private e-mail is more organised and my inspirational e-mail collection is more organised, too – as they are automatically grouped by e-mail funnel.
How does Spyvio compare to it's competitor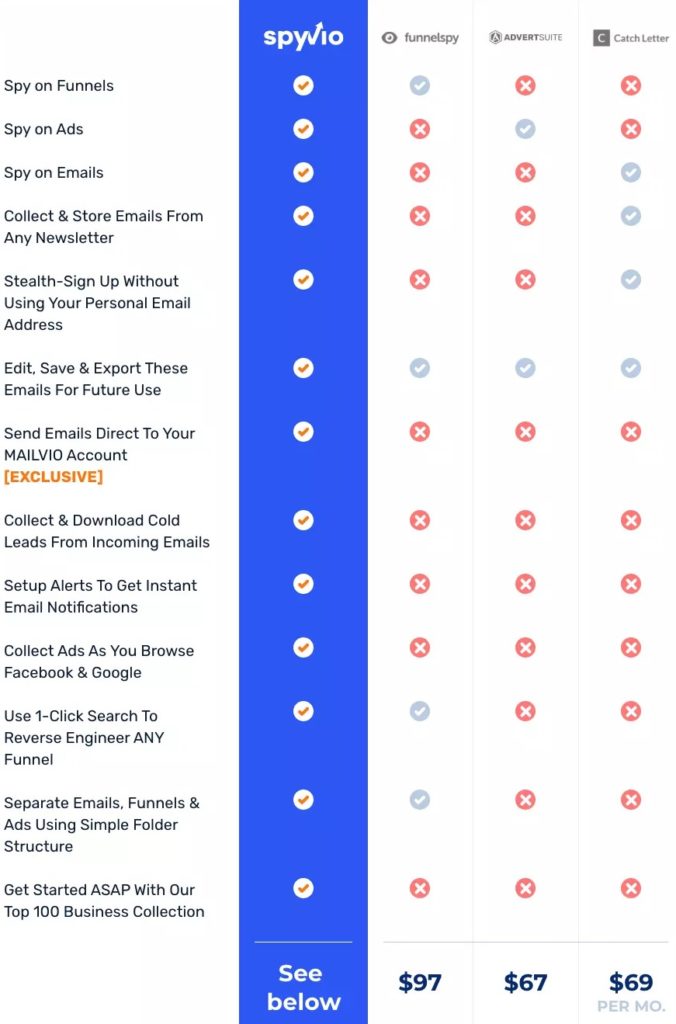 (Disclaimer: The link I just gave you get Spyvio is my affiliate link. You can use it to buy Spyvio.)