If you are looking for powerful and easy-to-use whiteboard animation software, then you should check out Doodly.
Doodly is a great tool for creating videos for product reviews, presentations, courses, presentations, and much more stuff.
In this doodly review, we will take a look at all of the features that Doodly offers, what the doodle videos look like, and see how it can help you create amazing videos.
What is whiteboard animation software?
A whiteboard animation software is a tool that allows you to create videos with the help of animations.
Whiteboard animation for marketing videos is a great way to explain complex concepts in a simple and easy-to-understand manner.
It is also an effective way to engage your audience and keep them hooked on to your video.
Doodly is one of the most popular whiteboard animation software out there. It is used by businesses, educators, and individuals all over the world to create stunning videos.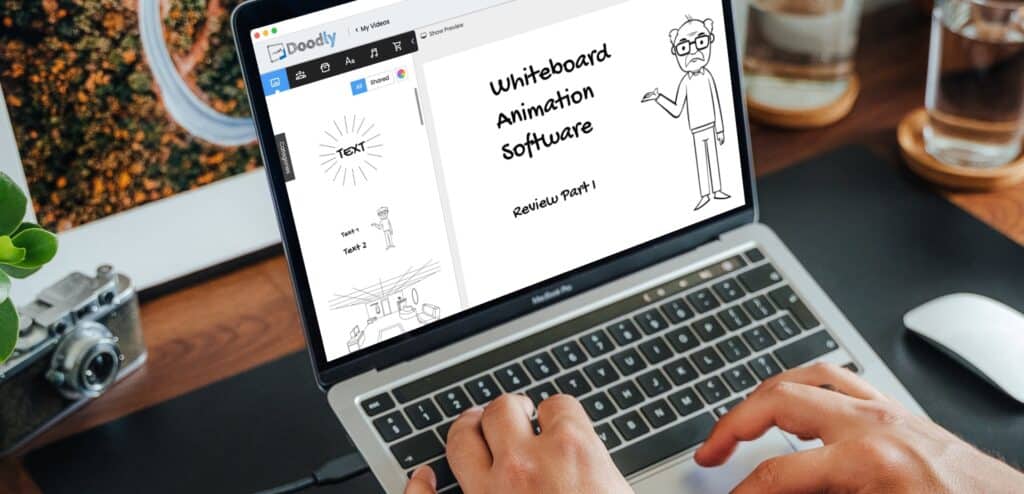 In this review, we will take a look at all the extra features that Doodly has to offer and see how it can help you create amazing videos for your business material, product reviews or courses.
Introduction to Doodly
Doodly is a powerful whiteboard animation software designed to help users create engaging and visually appealing explainers and marketing videos in the style of doodle videos.
It's perfect for educators, marketers, and content creators looking to produce eye-catching, informative, and creating explainer videos without needing advanced design skills first video, or technical expertise.
Best features of Doodly whiteboard animation software?
Integration of Custom Images
Doodly allows you to upload your own images into the animation software. Once your images are uploaded you are able to define the hand drawing and path.
By doing this your custom images look exactly like the integrated images from Doodly. This is a fantastic feature as you are able to create videos that have a unique look to them as they include your images.
In addition, they are hand drawn in the same style as the integration images.
Custom draw paths
Through the usage of custom draw paths in Doodly you are able to create videos that look truly unique.
This feature allows you to choose how your images are drawn on the screen. You can also add custom soundtracks, and text to make your videos even more engaging and interesting.
Pre-made scenes and characters
If you don't want to use custom images, then Doodly also has a huge library of pre-made scenes and characters that you can use. This is great if you want to create a video quickly as all you need to do is drag and drop the scene or character that you want to use.
Doodly is an easy-to-use whiteboard animation software with a lot of features that allow you
Drag and Drop Interface
Doodly's intuitive drag-and-drop interface makes it easy for users to create professional-looking animations.
You can simply select items from the extensive library, drag and drop them onto the canvas, then arrange and resize them as desired.
Free background music tracks
Adding music to your doodles can really bring them to life! Doodly offers a wide selection of royalty-free tracks that you can use for background music on your timeline.
The background music is on a separate audio track, so you can still add voice-overs or other sound effects.
Plus, the royalty-free music tracks are loopable, so you don't have to worry about them abruptly stopping in the middle of your doodle videos!
Whether you're looking for something upbeat or more relaxed, Doodly has the perfect track for your next doodle video.
Extensive Library of Assets
Doodly boasts an impressive library of over 2,000 pre-built characters, objects, and backgrounds, as well as a large library of thousands of royalty-free audio tracks.
This extensive collection ensures that you'll always have the perfect asset for your project, no matter the topic or theme.
Customization Options
With Doodly, you can easily customize the media appearance of your animations by changing colors, adding text, and uploading your own images.
You can also create custom paths for characters and objects to follow, giving your animations a unique and personalized touch.
Doodly's Voiceover and Audio Integration
Adding voiceovers and background music to your animations is a breeze with Doodly.
You can record your voice directly within the software, import audio files, or choose from their vast library of royalty-free music tracks to enhance your video's impact.
Doodle Video Editing
Doodly's video editing capabilities make it simple to create dynamic and engaging whiteboard video animations.
You can easily adjust the timing and order of scenes, as well as fine-tune the animation speed to ensure smooth transitions.
Additionally, Doodly allows you to add, edit, or delete elements within scenes, giving you complete control over the final look of your whiteboard video.
Export and Sharing Whiteboard Animation Videos
Once you've completed your Doodly animation, you can export your doodly video in various formats, such as MP4, MKV, OGV, and WEBM.
These formats are compatible with most video players and platforms, making it easy to share your whiteboard animations on social media, your website, or via email.
You can also adjust the video resolution and quality to optimize file size, frame rate, and playback performance.
Different Board Styles
Doodly offers a variety of board styles to suit different preferences and project requirements. In addition to the traditional whiteboard style, you can choose from glass board, blackboard, and green board options.
These different board styles allow you to create unique animations that cater to your target audience and match your brand's aesthetic.
Various Hand Styles
One of Doodly's standout features is its selection of hand styles.
The software includes a variety of hand styles and colors, with options for both right-handed and left-handed users.
These choices enable you to create animations that accurately represent the intended look and feel of drawing hand in your project, adding a personal touch to your whiteboard videos.
Doodly Support
Doodly provides comprehensive customer support to ensure a smooth user experience.
Users can access a knowledge base with helpful articles, as well as videos such as tutorial videos that guide you through the software's key features and functions.
Additionally, you can contact Doodly's customer support team via email for personalized assistance.
Enterprise plan subscribers benefit from priority support, ensuring faster response times for their queries and issues.
Ease of Use
User Interface
Doodly's clean and straightforward user interface makes it easy for beginners to start creating animations without feeling overwhelmed.
All the tools and options are easily accessible, allowing you to focus on bringing your ideas to life.
Learning Curve
While Doodly is designed for users of all skill levels, it may take some time to become familiar with its features and capabilities.
However, with a little practice, you'll quickly master the software and create stunning whiteboard animations with ease.
Pricing
Doodly offers two pricing plans to cater to different user needs:
Standard Plan
The Standard Plan is available for $39/month or $240/year, offering access to all the essential features, including the full drag-and-drop interface,-and-drop builder, libary of assets, and voiceover recording functionality.
This plan is perfect for individuals and small businesses that require a cost-effective solution for creating engaging whiteboard animations.
Enterprise Plan
The Enterprise Plan costs $69/month or $480/year and is aimed at professionals and businesses that need more advanced features, such as additional assets, priority customer support, and the ability to remove the Doodly watermark from your videos.
Pros and Cons in this Doodly review
Pros of Doodly
User-friendly interface
Extensive library of assets and royalty-free music
Customizable animations
Voiceover and audio integration
Affordable pricing plans
Cons
Some users may experience a learning curve
Limited animation styles compared to some competitors
No free plan or trial is available
Comparing Doodly to Other Whiteboard Animation Software
Doodly vs. VideoScribe
VideoScribe is another popular whiteboard animation software, offering similar features to Doodly. While both tools are user-friendly and have extensive asset libraries, VideoScribe provides more advanced animation effects and a free trial, making it more appealing to some users.
Doodly vs. Toonly
Toonly is a sister product to Doodly, focused on creating cartoon-style animations.
While Doodly excels in whiteboard animations, Toonly is better suited for those looking to create more colorful and vibrant animated videos.
Both tools offer similar features, pricing, and ease of use, but the choice depends on your preferred animation and video style though.
Use Cases and Industries
Doodly's versatility makes it suitable for a wide range of industries and use cases, including:
Education: Create engaging explainer videos for classroom lessons or e-learning courses.
Marketing: Produce captivating promotional videos or product demonstrations to boost sales and conversions.
Content creation: Enhance your blog or social media presence with unique and attention-grabbing animations.
Internal communication: Improve training materials or deliver clear and concise messages to your team.
School projects:
Affiliate Marketing: You can also you animations created with Doodly to promote or explain your affiliate products. This is a very effective way to earn money with affiliate marketing as videos are very engaging for consumers.
Customer Support
Doodly offers customer support through email, a knowledge base website, and tutorial videos. Enterprise plan subscribers receive priority support, ensuring faster response times for any queries or issues.
Conclusion of this Doodly review
The conclusion of this Doodly review is that Doodly is a powerful and user-friendly whiteboard animation software that makes it easy for users to create professional-looking explainer videos and educational videos throughout. With its extensive library of assets, customization options, and affordable pricing plans, Doodly is an excellent choice for individuals and businesses looking to enhance their content with engaging animations. While it may not be the perfect fit for everyone, Doodly's features and capabilities make it a strong contender in the whiteboard animation software market.
FAQs
Can I try Doodly for free?
Unfortunately, Doodly doesn't offer a free trial or a free plan. You can, however, take advantage of their 30-day money-back guarantee to try the software risk-free.
Is Doodly suitable for beginners?
Yes, Doodly's user-friendly interface and drag-and-drop in-and-drop functionality make it suitable for users of all skill levels, including beginners.
Can I use Doodly on my mobile device?
Currently, the standard version of Doodly is available for Windows and macOS computers only. There is no mobile app or web-based version of doodly software available at this time.
Can I import my own images and audio files into Doodly?
Yes, Doodly allows you to import your add-ons own images in various formats (PNG, JPG, and GIF) and audio files (MP3 and WAV) to customize and edit your animations further.
Are the videos created with Doodly royalty-free?
Yes, all the assets provided by Doodly, including images, characters educational videos, and music tracks, can be used in your own media and videos without worrying about copyright issues. However, it's essential to ensure that any imported assets are also royalty-free or have the appropriate permissions for use.
Can I create videos in different languages with Doodly?
Yes, Doodly allows you to create videos in multiple languages. You can add text in any language using the built-in text editor and import voiceovers in various languages to export videos that cater to a global audience.
How long does it take to create a whiteboard animation with Doodly?
The time it takes to create a whiteboard animation with Doodly depends on your familiarity with the software and the complexity of your project. For simple animations, you can create a video in just a few hours. More complex projects may take longer, especially if you need to customize assets or record a voiceover.
What video formats does Doodly support?
Doodly allows you to export your finished animations in MP4, MKV, OGV, and WEBM formats. This ensures compatibility with a wide range of video players and platforms.
Do I need an internet connection to use Doodly?
Doodly is a desktop application that requires an internet connection for the initial installation and activation. Once activated, you can use Doodly offline. However, you will need an internet connection to access updates and some online resources, such as the royalty-free music library.
Is Doodly a one time price, one time fee one-time purchase or a subscription-based service?
Doodly offers subscription-based pricing plans, with options for monthly or annual billing. You can choose between the Standard and Enterprise plans based on your needs and budget. There is no one-time purchase option currently available.