The short Story
Hi,
my name is Benedikt Hanswille, I am from Germany, a digital marketing specialist and a dad of three children.
I am in the digital marketing industry since 2000 and have held different positions in agencies from UX specialist to creative technical director to senior technology specialist.
During this time I have used different tools and techniques to increase the brand awareness and the revenue of our clients from start-ups to mid-size companies to global players.
To help increase the revenue my clients, I have built websites, created digital marketing campaigns, have managed social media profiles, optimized webpages for and search engines, created concepts for mobile and online websites and campaigns. I have also consulted these clients on digital marketing strategy, social media, search engine optimization, and usage of digital tools.
In this blog, I will based on my knowledge review dand ifferent tools, services and provide tutorials, tips and tricks.
The long story
I started programming small websites for myself in the 90s when you had to create layouts through templates and the Netscape Navigator was the browser of choice. Uploading the pages and the images took ages through the slow dial-up internet connection.
My first real project was the relaunch of the website of my student union at my university in 1996. We wanted to get a fresh look and some more interactivity.
In 2000 I finally convinced my dad that he needed a website (there is still a version available on the wayback machine) for his company that provided training in the field of systemic family therapy. Initially, he thought that his clients would not research this training on the internet but quickly realized he was wrong. Quickly he received more and more requests for information via e-Mail.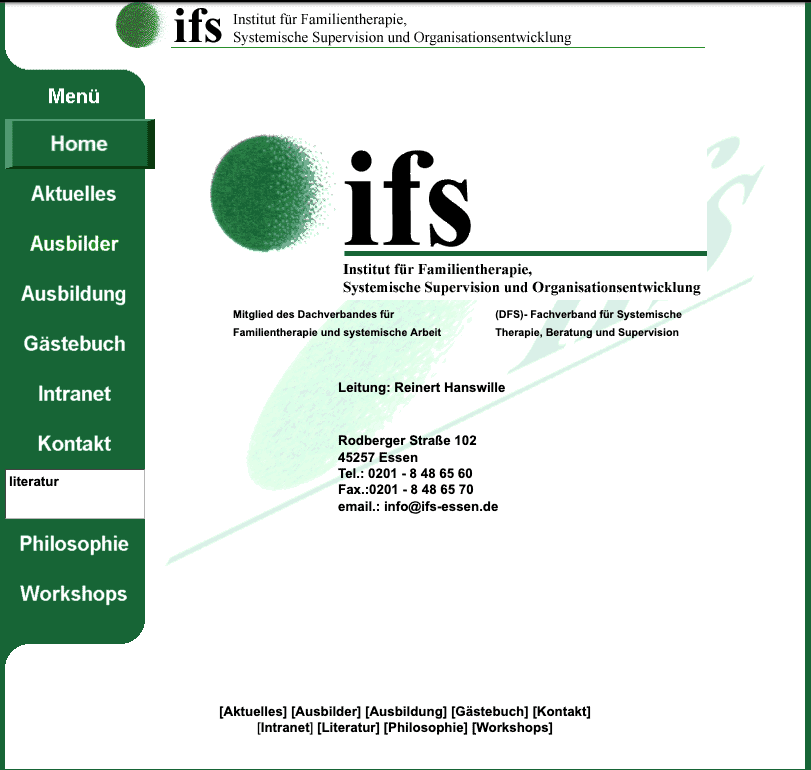 In the same year, I started working at 12snap, one of the first mobile marketing agencies in the world. In the beginning, I worked in the finance department but quickly moved into the project management department.
In this department I was responsible for the creation of specifications for mobile phone applications based on J2ME (a mobile version of the JAVA programming language) and the testing of the programs we received from our developers.
J2ME programs and games to be used in marketing campaigns were at the cutting edge of technology at the time in the early 2000's. In parallel to my work at the agency, I continued to optimize the website for the business of my father for search engines, so that he could increase the requests from his website.
At 12snap we always looked at new ways how we could use innovative technologies that came with every new mobile network and mobile phone generation for our marketing campaigns. Digital and being at the cutting edge were always part of my life. We developed applications for the very smartphones from Nokia.
The next step for me was the development of concepts and the development of mobile websites for our clients like Nokia, Vodafone and Coca-Cola, when you had to use a subset of HTML as the mobile phone browser could not understand full HTML.
This was the beginning of a new area for me as I began to move outside of the pure mobile space and also started creating mobile and desktop websites and campaigns. In the following years, mobile and desktop became one, and websites were developed as responsive websites. The advantage for me was that I was very familiar with the restrictions of mobile phones or smartphones and could easily adapt a desktop website to be user-friendly on mobile phones.
In parallel, I was always looking for how I could escape the job at the agency and start earning money as a freelancer or entrepreneur. At first, I wanted to start a company with a friend in the mobile space as we thought we had a unique skill set as we worked in mobile for such a long time. We developed some ideas and prototypes but never really got it going.
Later, I was more interested in the digital and online space. As WordPress grew bigger and bigger I wanted to start a WordPress development or WordPress theme company on my own.
Eventually, I became a freelancer but worked only for a handful of clients and the work I did was more or less the same as an employee for an agency. I could make the steps to disconnect my income from the hours I worked. This meant when I went on holiday I did not earn any money at all.
This experience only grew my desire to realize this disconnect and to start making money online. However, I was too risk-averse to start a dropshipping business and looked elsewhere.
I think at this point my shiny object syndrome started and I bought a couple of online courses and trainings mostly around affiliate marketing.
The first course was Ministry of Freedom from Jono Armstrong. However, I never really followed through with implementing any of the things I learned. To be honest the whole training is pretty scammy as you review and promote products that promise to much, deliver no real value and sometimes are even illegal like spamming users via e-mail or the product is against the TOMs of Google or Social Networks.
In this process, I discovered Philip Borrowman and bought the Take Action Online course which is very good training and provides valuable information that I use still today. It also does not promise you to much and highlights that it takes work and time to be successful online.
But I was not patient and wanted to be successful quicker and without so much work and effort. For this reason, I bought Commission Hero by Robby Blanchard. He uses paid traffic from Facebook to earn affiliate commission mainly with Clickbank products.
I actually started implementing his strategy and created a Facebook fan page, created content for Facebook, and run ads to increase my following on the page and get interaction for my posts. This was a requirement so that Facebook does not shut down your account too quickly. But then I hit two roadblocks, firstly my account was shut down multiple times anyway and it was harder and harder to recover the ad account. Secondly, I did not like the continuous investment in ads to drive traffic to my offers.
In this phase, I discovered Franklin Hatchett on YouTube. I really liked his approach of creating online assets and earning a kind of passive income. I even bought a domain (https://www.online-funnels.com) to copy one of his examples. I also bought his course Super Affiliate System. During this time I also started for some reasons two Instagram channels to grow a following on Instagram and earn affiliate money through Instagram. The two profiles are still live but haven't grown for some time.
However, one of the channels was the start of this blog. I started this blog when I bought another course from Philipp Borrowman. But I stopped publishing reviews after a month. In the meantime, I continued watching videos on YouTube on how to make money online, how to use different tools, and so on. I also started posting images, tips, and quotes onto my two Instagram profiles but did not follow through with the program from Philipp Borrowman and stopped posting reviews.
In the spring of this year, I discovered Adam Enfroy and his approach to affiliate YouTube marketing and how to make money online. At first, I watched a couple of his free videos on and finally bought his course Blog Growth Engine. This time I have promised myself, that I will continue with my journey and reach my dream.
Contact me
Benedikt Hanswille
Jahnstr. 6
72127 Kusterdingen
info(at)12onlineprofits.com